Men's Soccer Seeing Major Turnaround in Second Half 
By Grant DeVivo
Sports Editor
Nobody likes to remain winless for any stretch of time in a season. By the midpoint of their season, Stevenson's men's soccer team had still yet to take home its first win of the 2022 season. Heading into their game vs. Marymount College on Sept. 24, they were 0-4-4. 
At the same time, it is not like the league was tumbling all over the Mustangs. Along with those four ties, half of the losses were by one goal. Another was by two.
So, what was holding the team back? Was it just tough luck?
Whatever the problem, that Sept. 24 game vs. Marymount College served as a catalyst for success, and since then, the Mustangs have gone 4-3-1. They improved to 4-7-5 overall on the season with a 3-3 record in the Mid-Atlantic Conference [MAC].
"Going eight games without a win, the pressure builds," sophomore defender and Baltimore native Bryant Seivers said. "We all came out with the mindset that 'this is the game we will get our first win.'"
"Every single person on the team had the mentality before going to that game of 'we are getting a win,'" junior forward and Bladensburg, Maryland native Edson Demata Ribeiro said. "When everybody was locked in, the soccer came easy, the goals came easy, and the chemistry was really there."
Defeating Marymount left the men's soccer team ecstatic. The win set the energy for the team as they continued to march forward with the upcoming schedule.
"That first win gave everyone more momentum to keep working and to keep getting more [wins]," Ribeiro said about the Marymount win.
"I feel like it also proved to us [as a team] that we have the capability to win," Seivers added. "We say it every game; if we come out and do our best, we can win. I feel like after finally getting that first win, it finally clicked. Everyone got on the same page and said, 'we can do this.'"
A resurgent offense has been one of the main reasons why Stevenson men's soccer has seen things trending upward lately. Dating back to Sept. 24, the Mustangs have outscored opponents 13-8 and completely obliterated Albright College on Oct. 8 with an unusual soccer score of 6-0.
"Everybody came out [these past few games] and they were hungry to get on the score sheet," Ribeiro said about the team's hunger for offense. "Everybody just wanted to get a goal, go forward, and be dangerous."
Team chemistry and bonding have also contributed to the Mustangs' recent success. Seivers specifically mentioned how the team chemistry has mightily improved over the course of this season.
"I feel like the team chemistry was not there (early in the season)," Seivers said. "Early on in the season, you are not really sure how everyone plays. Everyone has their own style. Once we settled down as a team, we connected and played our soccer. I don't think a team can beat us if we settle down and play.
"We have the talent to put together a 90-minute performance," Seivers added.
Senior forward Tiago Silva said the team's chemistry has helped them win more games.
"The team is very close on and off the field so that helps a lot with chemistry and knowing what certain players like so we can play to everyone's strengths," Silva told The Villager's Alex Rojas.
Both Ribeiro and Seivers emphasized teamwork and how closely connected the team is.
"I cannot really pinpoint because everybody goes out there," Ribeiro said. "It has been a team effort from the start."
Seivers agreed.
"Everybody brings energy," he said. "This is a team sport. We win together and we lose together."
Perhaps it is the home feeling that has also enlightened the men's soccer team. The Mustangs are 3-3-2 when playing at Mustang Stadium in front of the home crowd versus a 1-4-3 record when on the road. It is worth noting that the remainder of the season will be played at Mustang Stadium.
"This is our home," Ribeiro said about the home environment. "We know for these next three games, we have to protect the home. We have to come out and put teams away early."
"When you are playing at home, you know the [playing] surface," Seivers said about Mustang Stadium. "This is where you practice, this is where you are always playing. I feel like just having that home field advantage and really knowing what you are going to go out and play on is big."
Ribeiro and Seivers also stressed performing well for the home crowd.
"All these fans drive out here and spend their time out here sitting in this cold," Ribeiro said. "We really do owe it to them. We had a rough start to the season, and it is only best if we end the season very strong [in front of the home crowd]."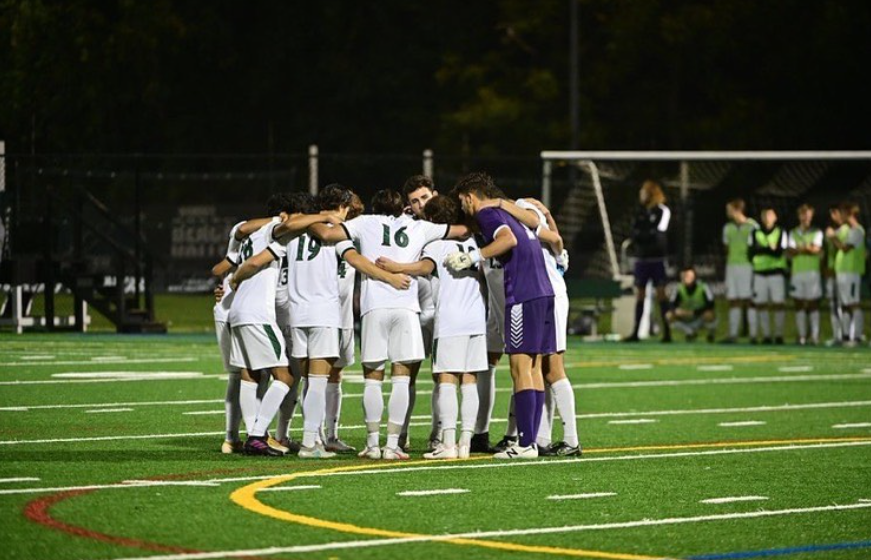 With three games left on the season and two of them in conference, what exactly are the Mustangs going to do to continue their winning ways and finish the 2022 season strong?
"What is important is that we take small details from the games when we did good, and we continue," Ribeiro said about the approach to the end of the season. Ribeiro also mentioned letting the past sit in the past. "Sure, we beat Albright 6-0, but that is in the past," he said. "We move onto the next game and prepare every way possible to come out here and get a positive result."
"Come out every game like it is your last," Seivers said.
With the excitement of homecoming, the Mustangs will have the comfort of home with them this Saturday. They will take on 6-5-2 York College at 4 p.m. in front of a buzzing homecoming crowd after Stevenson football plays FDU-Florham at noon.