A SHOT AT HISTORY
Gary Stewart ties Brett Adams for the Stevenson University career record for wins by a men's basketball coach 
When Gary Stewart last month tied Stevenson's record for most victories by a men's basketball coach, two of the first people to greet him were his boss and the person whose record he tied. 
Of course, both of those people were the same man — SU Athletic Director Brett Adams. 
Stewart tied the mark on Valentine's Day when the Mustangs defeated Messiah 62-58 in Mechanicsburg, Pennsylvania.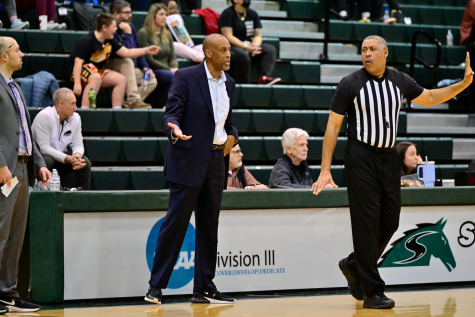 Stewart, who began coaching at Stevenson in 2011, reached the milestone in fewer games than Adams, who coached from 1994-2011. The two have been the only men's basketball coaches in SU history. 
"I don't really grasp the magnitude of it all," Stewart said. "Because it's just not a fixation of mine. I'm so focused on the experience that the student-athletes have under my (care), and that's where all my energy goes." 
Stewart, who was born in Los Angeles, California, started his coaching career 37 years ago at age 24 at California State University, Long Beach as an assistant. From there he went to his alma mater, La Verne, where he was inducted in 2009 into the Division III school's athletics hall of fame. 
He then went to Division II Cal State East Bay and served as their head coach. In 1997, Stewart was named the Northern California Athletic Conference co-coach of the year. 
After a couple more stops as an assistant and a brief stint at UCLA, Stewart landed in 2003 at UC Davis and remained there until 2011. Stewart led the Aggies from Division II to Division I, coaching UC Davis in the Big West Conference. 
"I was very fortunate," Adams explained. "When I stepped down and I put the national advertisement out for this position, we had 325 applications for this position. We had really qualified candidates and Coach Stewart coming from Division I, really successful in Division II, and very successful in Division III, he and I just philosophically connected." 
After deciding to step down as the head coach at UC Davis in 2011, Stewart made his way over to the East Coast to officially become a Stevenson Mustang.  
Stewart's first Mustang team went 6-21, but he turned the program around quickly after that. His 2012-2013 team finished with a 16-10 record, while his third and fourth teams each won 21 games, playing in the conference championship game in both 2014 and 2015. 
Stewart said that he's always been involved in team sports and that he sees himself as just part of the team. He especially wanted to include not just the student-athletes in this milestone but the training staff as well, as he feels that they don't get the appreciation that they deserve. 
The Mustangs went 12-13 overall this season and 6-10 in the Mid-Atlantic Conference. 
Stewart noted in early February that the conference was much more challenging this season and that no win would come easily, that the team needed to be more active, and that they were doing great things but were unable to sustain them. 
"Our talent is good enough to go on the road against our conference champion and beat them by double figures and hold them to 48 points," Stewart said. "What we weren't good enough to do was to have sustained success on a weekly basis." 
As he looks to the future, Stewart remains steadfast in his goal of instilling values into the student-athletes that apply on and off the court. 
"I'm really concerned with what 24, 34, 44, 54, 64 will look like and the importance of being a good father is something that I pride myself on," he said. "I know I play a small role in that, and I just try to accentuate the values that their parents and mentors have instilled in them. Hopefully, they return and they're tremendous for their communities, making everything that they come into contact with better." 
**All Photo Credits to Sabina Moran** 
Donate to Stevenson Villager
Your donation will support the student journalists of Stevenson University. Your contribution will allow us to purchase equipment and cover our annual website hosting costs.
About the Contributor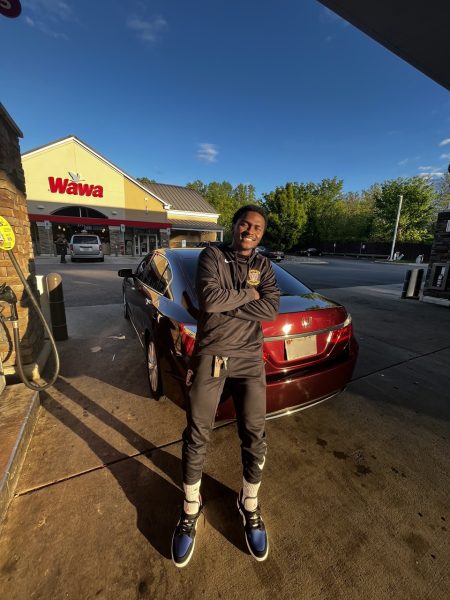 Jared Luma, Podcast Host
Jared is a junior communication major from Baltimore, Maryland. Outside of hosting podcasts for The Villager Voice, he enjoys writing, playing basketball,...