HOT BEACH START
SU women's beach volleyball team opens season seven wins in nine matches but loses to Hendrix in the sequel to last year's AVCA national championship 
The Stevenson women's beach volleyball team is off to a hot 7-2 start as the Mustangs but lost a tight 3-2 match to Hendrix College in a rematch of the 2022 American Volleyball Coaches Association national championship match.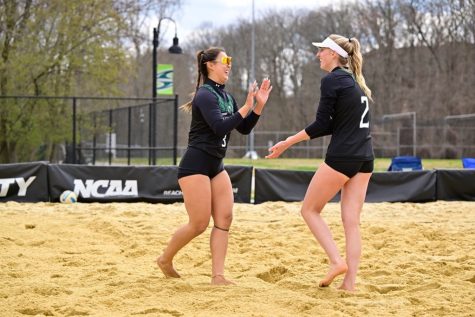 That game was the highlight of a five-match weekend trip to Gulf Shores, Alabama, where the Mustangs went 3-2, defeating Berry 3-2, Mobile 5-0, and Huntingdon 4-1. The losses were to Hendrix and by 4-1 to Spring Hill College 
The women's beach season officially began Feb. 24-25 when the team traveled to Virginia Beach, Virginia for a tournament with four other teams from up and down the East Coast. The Mustangs put on a show, sweeping all four matches without dropping a single set to their opponents.  
In Alabama this past weekend, Stevenson opened with a win Friday against Berry College bringing the Mustangs' record to 5-0. The No. 1 pair of Rileigh Kimball and Miranda Mueck and No. 3 pair Makala Thompson and Nicorette Fuglestad fell to Berry but the No. 2, 4, and 5 pairs of Shannon Baily and Taylor Jones, Hannah Naja, and Maddie Clouser, and Caleigh Bernota and Sam Simmers rallied the team to a 3-2 win. 
Last spring, Stevenson swept Hendrix College of Conway, Arkansas 4-0 in the AVCA small college national championship, but Friday's match went to Hendrix. Baily and Jones, and Clouser and Naja notched victories for the Mustangs in the 3-2 defeat. 
Mueck/Kimball, Thompson/Fugelstad, and Bernota/Simmers joined the winning in a sweep of Mobile. Against Huntingdon, Bernota/Simmers, Baily/Jones, Thompson/Fugelstad, and Mueck/Kimball all recorded victories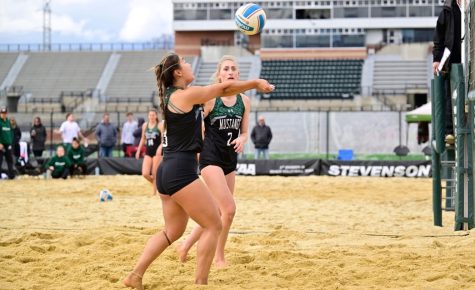 Returning members like junior Kimball, hope to lead this young team to, even more, wins down in Florida over Spring Break this weekend and keep the momentum rolling towards another national tournament.  
The Mustangs travel to the Sunshine State to play four tri-matches against eight teams, starting against Palm Beach County State and Sumter Community College on Sunday. They conclude their Spring Break tour on March 18 in Lakeland, Florida. 
"We definitely want to be going to nationals again," Kimball said. "Even next year and the years after, I want to see this program grow and just keep getting better." 
The team is excited to get further into the season thanks to the great team culture and passion for hard work that this year's team shares.  
"Every practice you can tell everyone's leaving everything on the court," said Bernota, a junior blocker for the current No. 5 ranked pair. "You can tell everyone wants to compete and wants to be there." 
In addition to the team culture and work ethic, a coaching staff led by seventh-year coach Dave Trumbo helped to keep Stevenson a national-caliber team. Having such knowledgeable coaches allows each pair to receive individual feedback at practice and fine-tune their games. 
"All of the coaches together are able to provide so much help," Kimball said. "Each coach has their own area of expertise like whether it's hitting, defense, strategy, or just general advice on our game" 
Donate to Stevenson Villager
Your donation will support the student journalists of Stevenson University. Your contribution will allow us to purchase equipment and cover our annual website hosting costs.