Students exhibit photos from Berlin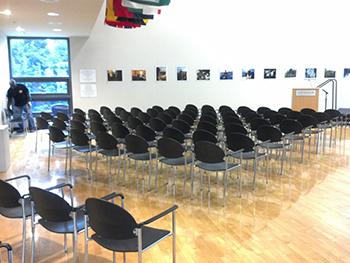 Stevenson's art history and photography students are eager to share their work in the newly installed exhibition, "Berlin: From Space to Place."
Two classes traveled overseas to Berlin, Germany in spring 2017. ART 305 and PHOTO 480 professors Lori Rubeling and Elena Volkova led the journey alongside 21 students.
From majors including visual communication design, business communication, film & moving image, and fashion merchandising, students combined the elements of exploration with inspiration to expose themselves to the true nature of Berlin.
While overseas, the students had two goals: to learn how to travel independently and comfortably in a new setting, and to capture and immerse themselves in the culture to bring back for further exploration.
Photography students experimented with portraiture, architectural landscaping, and microphotography to capture the city's rich atmosphere.
Free reign was given to the students in regard to what themes they explored, but they still had to showcase what they learned about the standards for getting the perfect shot.
Each student took anywhere between 5,000 and 7,000 photos during this trip, and some of these additional photos will be included in a slideshow to be shown during the exhibit's reception.
During the trip, Rubeling asked her art history students to look at the architecture of Berlin through an historical lens. Students traveled to various locations, ranging from the Bauhaus all the way to pop culture clubs and sites, while exploring every aspect of their historical context.
The discoveries made from this analysis are also on display during the exhibit, through captions written by the art students under every image.
Volkova explained that there are three things viewers can think about when viewing this exhibition: how the images affect them on an aesthetic level, an emotional level, and an intellectual level.
"The images are in the context of very rich history and culture, and what's really amazing about Germany is that the process of reconciliation with the past is very profound," Volkova said. The captions help to further translate the culture and history of Berlin, and both professors encourage viewers to consider the photos and the captions together when experiencing this exhibition.
The exhibit is located in the St. Paul Companies Pavilion on the Greenspring campus, and it will be open for the duration of the fall semester. A formal reception will be held on Thursday, Oct. 5 at 6 p.m.
All are welcome to attend to learn more about the study abroad experience firsthand, as well as preview other collaborative projects, such as the "Inside Out" project, that will be on display this school year.
Leave a Comment
Donate to Stevenson Villager
Your donation will support the student journalists of Stevenson University. Your contribution will allow us to purchase equipment and cover our annual website hosting costs.