Reduce stress via #ThriveChat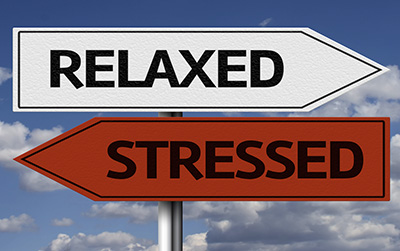 Stevenson University has developed a new tool for students to succeed in their studies. #ThriveChat, which is held in the Caves building on the Owings Mills campus, offers stress reduction techniques to decrease negativity and encourage growth.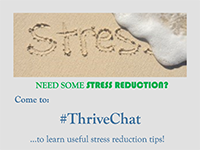 In the Office of Diversity and Inclusion, students will find a safe place to discuss and solve issues concerning the community. A five-part workshop includes exercises to teach participants how to reduce and prevent stress effectively. Several different techniques can help a wide variety of students whether they are expressive or reserved, or assertive or passive.
Led by Rachel Simms, #ThriveChat works to comfort students as they deal with school, work, finances, relationships, family, and other stressors. These challenges can be stressful for everyone, but especially for students who are learning to manage their time in order to balance all areas of their lives. It is important to learn how to recognize one's feelings and to channel energy into positivity. Meditation is one effective tool to do so.
With guided imagery and visualization, users can form mental pictures of experiences that relax them. For example, meditators in one workshop were asked to close their eyes and imagine that they were sitting on the bank of a river that was moving slowly by. They were asked to imagine the weather of the current season, to contemplate the smells and sights of the scenery using all senses. This practice expands the mind and increases the grey matter of the working creative parts of the brain. Grey matter is then decreased in other parts of the brain that foster stress, worry and fear.
Through video, breathing, stretching, arts and discussion, participants were able to leave the workshop feeling refreshed and clear-headed. As a result, they were able to begin to increase their own self-awareness. As well as focus on the present, reduce anxiety, increase patience and tolerance, and increase creativity and imagination. The benefits of #ThriveChat and meditation are shown by the reactions of the participants.
One student said, "I don't know how to explain it, but I feel better. I'm looking at what I drew and I didn't even know I felt that way. It gets so dark… it's cool to see on paper."
Another student said, "I'm very into communication and the arts. I value the expression of emotions without filter and I feel so much better now. The colors I used are so contrasting. I think it represents the balance of life."
Students can attend as many workshops as they like throughout the semester and are encouraged to do so. #ThriveChat is held every Tuesday at 6 p.m. Anyone who is interested in #ThriveChat can contact Rachel Simms through campus email.
Leave a Comment
Donate to Stevenson Villager
Your donation will support the student journalists of Stevenson University. Your contribution will allow us to purchase equipment and cover our annual website hosting costs.