With Stevenson's fall break right around the corner, Mustang Activities and Programming (MAP) is gearing up for the first annual Fall Staycation in just a few days.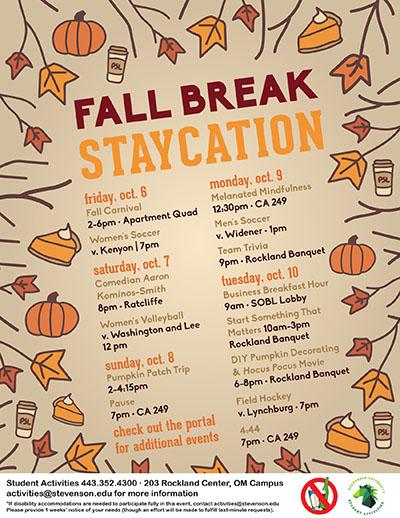 While fall break is technically Oct. 9 -10, MAP has planned events starting Friday, Oct. 6 for students staying on campus over the break.  Jenna D'Onza, assistant director of student activities, said MAP has previously hosted events similar to Staycation during the first full week of school in an effort to get students, especially new students, excited about staying on campus during weekends.
"Research shows that students who interact with other students outside the classroom have a higher success rate inside the classroom," said D'Onza. "Holding meaningful events where the students are free to interact and engage with each other and faculty allow them to build positive relationships around campus."
While MAP has organized most events, the athletics department and the Office of Multicultural Experience are also hosting events during Staycation. Students staying on campus during the upcoming break can enjoy activities including athletic events, comedian Aaron Kominos-Smith, Start Something That Matters, and the Fall Carnival.
"Our Trivia Nights are our most popular events, with over 90 students attending each month," said D'Onza. Pizza and refreshments are offered to all students, and the team who places first wins a $100 food gift card. To register a team, students can visit The Rock on Owings Mills or the Greenzone on Greenspring. Trivia Nights are hosted on the first or second Monday of every month this semester.
"It's definitely good to know that there will be things for us to do as students over the Fall Break," said senior resident Emily Hobbs. "As a senior living in the apartments, it's easier to just hang out in the apartment with my roommates, but it can also get boring after a day or two.
"Having events on campus during the break will help get my roommates and me out of the apartment for a while," Hobbs said. She is looking forward to both the carnival and the comedian, which, she said, sound like a lot of fun.
For breaks as short as this one, there is no cost for staying on campus through the long weekend. With longer breaks, such as winter or spring break, students should contact the Office of Residence Life at (443)-334-2588 or by email at [email protected] for eligibility guidelines.
For more information, see the flyer posted on Student Portal page for times and locations of each event or email [email protected].