Stevenson University's School of Design is continuing the traditional Artist-in-Residence program this fall, welcoming filmmaker Theo Anthony on campus from Oct. 16-18.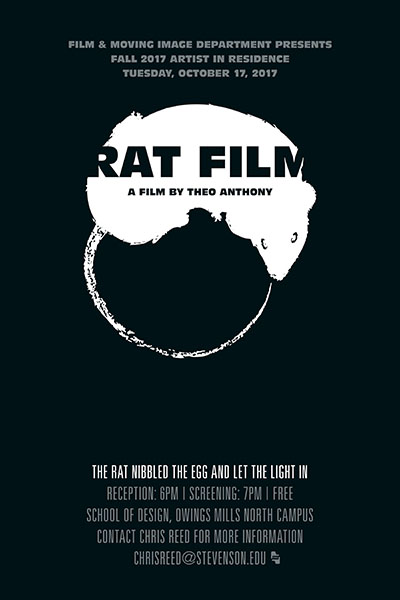 Anthony, a Baltimore native, is an accredited filmmaker whose feature documentary, "Rat Film," will screen at Stevenson on Oct. 17 followed by a Q&A session.
The featured artist will be on site from Oct. 16 through Oct. 18, interacting with students through classroom visits to help inspire them and show them that their goals are attainable.
Christopher Llewellyn Reed, professor and department chair of film and moving image, said that Anthony was chosen because he was a local, young artist who has gained notable attention for his documentary work.
"The film shows variety by mixing actors, voice-overs, and graphics to create an experimental documentary. It shows different kinds of filmmaking and could be a great inspiration to our students," said Reed.
"Rat Film" tackles zoning laws, poverty, and the relationship with rats and race. According to Stevenson's Arts and Cultural Events publication, the feature debuted at the 2016 Locarno International Film Festival to critical acclaim, with Richard Brody of "The New Yorker" calling it "one of the most extraordinary, visionary inspirations in the recent cinema."
In previous semesters, the Artist-in-Residence program has included directors, actors, visual effects specialists, cinematographers, and editors.
"We are trying to produce working professionals. Bringing in people with a variety of experiences and achievements is only for the benefit of our students' future success and aspirations," said Reed.
The department chair hopes that students will ask how Anthony managed his resources to achieve his vision and learn from his experiences. Besides the benefits of learning from the artist's working timeline, there is much to learn from the film itself.
"The themes discussed in the film should be important to all of us. Urban planning and how policies rooted in racist ideologies implemented 100 years still have an effect today," said Reed.
The reception will begin at 6 p.m. followed by a screening at 7 p.m. on Tuesday, Oct. 17 at the School of Design Soundstage (OMN). Admission is free to all attendees.