The men's and women's cross country teams have continued to set personal best records and hope to show well in the Middle Atlantic Conference championships.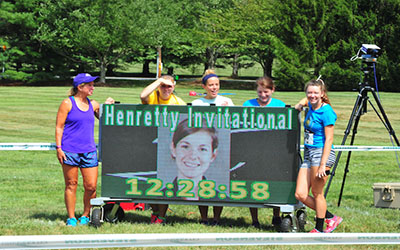 The men's team opened the season strong taking second place at two of their large home meets, the Mustang Stampede and the Shannon Henretty Invitational. The Mustangs have been regionally ranked throughout the fall in the USTFCCCA rankings and moved up to a season-best of eighth for the week of Oct. 17, according to gomustangsports.com.
On the women's side, The Greenspring campus course offered a second-place finish overall for the Mustangs. Junior Kelly Winklbauer finished in first place at the Mustangs' own 6k Shannon Henretty Invitational for the second straight year. Coach Berdan acknowledged that the women ran a stronger second half of the race, going out conservatively as planned, and then finishing strong. In addition, the women finished ninth out of 13 schools competing in California, a first for the Mustang runners. Berdan added that he was overall pleased with their performance.
At the Paul Short Invitational at Lehigh University Sept. 29, several Mustang runners deserved recognition. Langston Gash shattered his previous school record in the 8k with a time of 25:11, sophomore Ryan Siegel broke his career by 12 seconds with a 26:12 and junior Jackson Morrow bettered his previous personal record by 68 seconds, according to gomustangsports.com.
Some other season highlights included Sophomore Achol Odolla placing 47th overall out of 271 runners in the non-Division I Gold race, pacing the Mustangs for a 19th-place finish out of 32 schools. Two weeks later, at the Pomona-Pitzer Invitational at Pomona College, Winklbauer ran a personal-best 6k with a time of 23:16.31 while Odolla ran a 24:29.98 with freshman Emily Gates just two seconds behind her.
Coach Berdan deserved some recognition as well, finishing second this year in the Baltimore Running Festival Marathon with a time of 2:32:28, finishing just about three seconds behind winner Jordan Tropf. Berdan is a two-time winner in the event with wins in 2013 and 2015. Several members of his team were there at the finish line to support him.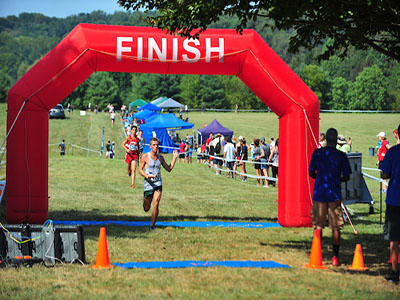 In an article in the Baltimore Sun, Berdan said, "It's good motivation for me…It's a long race and it's nice to see faces you know, to push you along. I'm sure they'll mess with me too, saying the same stuff I tell them, like, 'Don't settle in [with a group], keep passing." Kelly Winklbauer added, "The fact he has been through all this goes a long way in terms of trust and respect."
The team has a conference championship meet Oct. 28, preceding the NCAA regionals the next weekend. Head coach Dave Berdan said the team has a lot of work to do to prepare for these meets, but with the team's top runner junior Langston Gash who was selected as MAC runner of the week on Sept. 18, Berdan is optimistic about the team's chances.