The field hockey team's season has come to an end with a record of 7-9.  The team finished strong, closing on a high note of two conference wins. The team defeated Alvernia University on Homecoming (also Senior Night), 3-2 in overtime. The team took to the road to cap off the season with a 3-0 win against Hood College.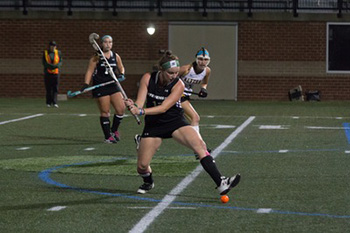 The team's overall record in conference play was 3-4.
"At the start of the regular season, we came out strong. We struggled a little bit in the middle when we were doing a lot of traveling, and now we're finishing it out strong here at the end as well, so it's been a good journey," said head coach Laurel Martin.
The team traveled to Barbados for preseason. Martin thought the trip was very helpful since the team got the chance to bond, play on a new surface, and face tough athletes. She believes they got to know each other better as a team and played well overall.
According to sophomore Tanner Ridgely, "The trip to Barbados had a big impact on the team and how we all connected from the new environment and the non-pressure that comes with regular preseasons."
The season had its ups and downs, according to senior Abigail Provost: "The team was definitely young this year since we only had three seniors, but the upperclassman know what it's like to be in a championship so everyone worked to pull the best out of each other. There was great chemistry this year, and I'm excited to watch them continue to build next year."
The next step for the team is their non-traditional season, referred to as spring ball. Rising senior Alexis Young explained what she hopes to see in the coming year: "I hope that we find success in all that we've built in the past couple years. I'm hoping we can go out with a bang my senior year and really lead the team in taking risks so we can accomplish things we haven't been able to. I think this spring we have to work on playing together as a team and working more as a unit on the field. Off the field, it is no problem, but we really need to focus in and dedicate ourselves to a culture of being great and not settling for anything but that!"
Martin acknowledged that there are many different types of leaders on the team, and she hopes that the players will continue to improve their skills and speed of execution, providing them with a great spring ball season. Martin's main focus for spring is working together as a team, passing combinations, skills and small games.
The field hockey team will get back to work this spring to prepare for the next season in the fall of 2018.