The Sovereign Steppers, Stevenson's step team, and Phi Beta Lambda are throwing the annual Pajama Jam party this year on Nov. 3 from 10:30 p.m. to 1 a.m. in the Rockland banquet room.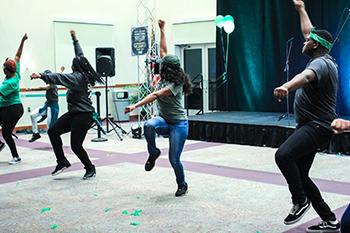 Tickets are sold at The Rock for $2. The event will include raffles, a pajama contest and a performance by the step team. Some prizes include a finals week survival kit that will have snacks to help students survive those long nights of studying, as well as a pajama kit that will help the winner stay comfortable during late nights, including a snuggie and a pillow pet.
This year for the first time, the step team is collaborating with Phi Beta Lambda, a club that wanted to be a part of the event as well help out with planning and prizes. The step team will show off their best set of pajamas as well, including Demarcus, the only male in the group, who will be dressed up in a surprise ensemble.
A step team is a group of men and women who form a creative rhythm or sound using their body.
The step team has been around since 2009, and in the recent year has been able to perform at more events. President Deshae Blake-Markham, whose term began in May, has made it a part of her mission to include everyone on the team in decisions about themes, music and choreography for performances.
Blake-Markham said she has been contacted for many events, including their performance at the M.I.L.E. cookout. Blake-Markham is excited about this year, adding that "everyone is ready to perform" at the Pajama Jam event. She's especially excited for their Yard Show event on Nov. 18.  That performance will include a day of events.
The Yard Show is from 6 to 8 p.m. and will showcase the arts of stepping, strolling, and dancing. There will be members of fraternities and sororities from other campuses present, along with performances from Stevenson's clubs and organizations. The step team will perform with the Lit Flamingos, the third place talent show contestants, with a performance theme of cops and robbers. Along with the Lit Flamingos' performance, the talent show winners will perform as well.
After the Yard Show, there will be an after party from 9 p.m. to midnight in the Rockland banquet room, known as the Glo'Up Party. This party is glow-in-the-dark themed, and tickets are $1 for students and $2 for guests, sold at The Rock.