Stevenson's National Broadcasting Society and Film and Moving Image Club is hosting the second annual Stevie U 72 Film Festival on Nov. 17 from 7-9 p.m. at the School of Design Soundstage.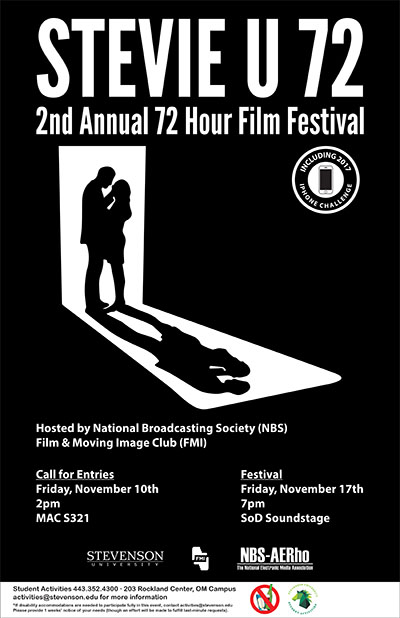 The goal of the film festival is to get students from all majors, not just film and moving image (FMI), to come together in teams of three to prepare, produce, and edit a film within the 72-hour limit.
Once the teams of three are finalized, they will select two genres from a hat and choose one of the two to embody the content of their film. After the genre has been chosen, teams will be further challenged with a particular stylistic component. For instance, the genre of a team's film might be drama and their challenge might be that the film must be in black and white.
After all of the genres and challenges are assigned, the teams have from Friday, Nov. 17 at 9 p.m. until Monday, Nov. 20 at 9 p.m. to develop a script, produce and edit the short film, and submit it for judging.
This year's film festival will have three judges.  Two of the names have been revealed by Christopher Reed, professor and chair of the FMI department: Claire Moore, vice president of student affairs, and Adam Vaughn, president of the FMI Club. The third judge has yet to be revealed.
To promote the event to students outside of FMI majors, the club has decided to include another modern form of filming, an iPhone and cell phone category.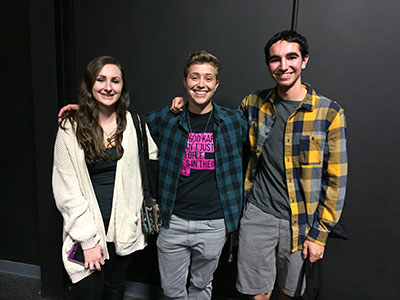 Vaughn said that the club decided to add the phone category to make the challenge more appealing to other students. He noted that, since not all students know how to use professional-grade cameras, microphones, and lighting equipment, this addition might help non-FMI majors feel less unsure of themselves due to a lack of film background or expertise.
The call for entries is open to all students and will take place on Friday, Nov. 10 at 2 p.m. in MAC S321 (OMN). For more details on how to sign up, contact Adam Vaughn through campus email.
All are welcome on Nov. 17 at 7 p.m. for the final screening of film entries as well as an announcement of the winning films at the SOD Soundstage.