Local restaurant offers tasty pizza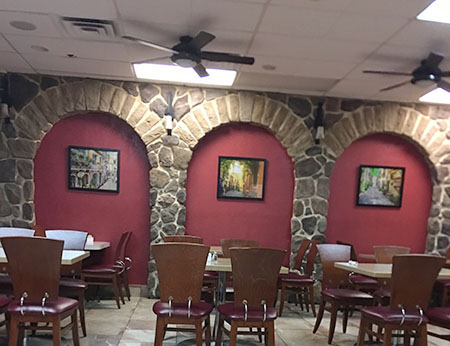 Rincon Italiano, located in Crondall Corner Shops Shopping Center on Owings Mills Boulevard, is a restaurant where guests can enjoy an authentic Italian pizza as well as a large array of other authentic dishes.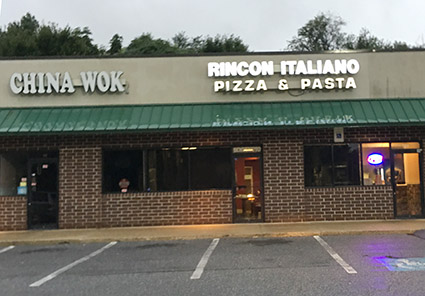 This hidden gem offers incredible Italian cuisine, along with respectable service. At first glance, Rincon Italiano does not look like a welcoming restaurant due to its dull brick exterior, but as soon as customers open the front door, they will be welcomed by the scent of freshly cooked pizza.
Prices are reasonable; a small pizza starts out at $7. Along with a great menu of appetizers and entrees, Rincon Italiano offers numerous desserts including cheesecake, chocolate cake, cannoli, and tiramisu.
After ordering my pepperoni pizza, I was pleasantly surprised to find that the crust was soft and fluffy and that the cheese was finely melted with an appropriate amount of pepperoni. The medium pizza was large for one patron, but perfect for a couple.
Pizzas tend to be out of the oven in approximately 10 minutes, and the head chef makes diners feel like they are in Italy by calling out, "Pizza, pizza!" whenever a fresh pizza is served.
The service at Rincon Italiano is impeccable and swift. For customers who want to enjoy a nice sit-down meal, the wait staff check in on diners repeatedly to ensure they are having a satisfactory experience. This restaurant is perfect for a meal with friends or family, and diners can choose their own seating in the space. Although the restaurant does not have a liquor license, diners can bring in their own wine or alcohol.
Rincon Italiano had its grand opening in the Crondall Corner during August 2018. The restaurant is located next to the now-closed Steve's Deli. Free delivery is available for orders more than $20.
Outside, the parking lot is very large and well-lit. While the restaurant does not look very large from the outside, there is plenty of seating inside with about 30 to 40 seats for. The dining area and the kitchen are both well-lit and immaculately clean.
Rincon Italiano is located at 11299 Owings Mills Blvd, Suite #109, Owings Mills, MD 21117.
Hours of operation:
Monday-Thursday: 11 a.m.-10 p.m.
Friday-Saturday: 11 a.m.-11 p.m.
Sunday: 4-9 p.m.
Donate to Stevenson Villager
Your donation will support the student journalists of Stevenson University. Your contribution will allow us to purchase equipment and cover our annual website hosting costs.