As the temperature is finally starting to drop and Homecoming + Family Weekend approaches, members of the Stevenson community can begin to look forward to these annual Homecoming events on campus from Oct. 13-20.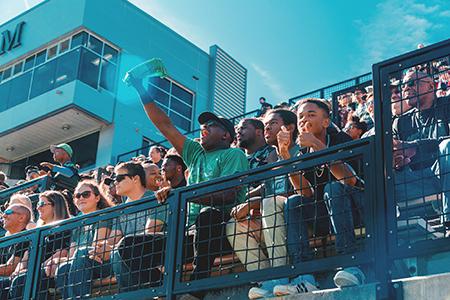 MONDAY, OCTOBER 15
7-9 p.m.  Female and male students will show off their love for Stevenson University in a creative competition to see who will be crowned as 2018 Mr. and Ms. SU in the Rockland banquet room.
TUESDAY, OCTOBER 16
Noon-8 p.m. Mr. and Ms. SU will host "Giveback Tuesday" tables in the Rockland Lobby.
7 p.m. Women's soccer v. Albright College at the Mustang Stadium.
7 p.m. Women's volleyball v. Susquehanna in the OM Gym.
WEDNESDAY, OCTOBER 17
7 p.m. Field Hockey v. Hood College in the Mustang Stadium.
9-11 p.m. A new celebration, the Homecoming Bash, hosted by MAP, will be held on the second floor of Rockland. The event will feature food as well as giveaways of sports rally towels and stuff-a-plush. There will also be photo booths, crafts, and student performers.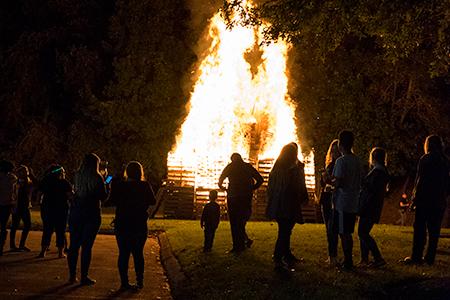 THURSDAY, OCTOBER 18
7 p.m. The annual Powderpuff Football Game will pit the senior and junior team and the sophomore and freshman team against each other in a riveting game of flag football, located behind the Ratcliffe Community Center.
7:30 p.m. The annual Homecoming Bonfire will take place in the Caves parking lot. Student groups will perform and food will be sold.
FRIDAY, OCTOBER 19
7:30 a.m.–3:30 p.m. The annual Stevenson University Golf Open will kick off at the Piney Branch Golf Club. All players must register beforehand.
7 p.m. Women's soccer v. Alvernia in the Mustang Stadium.
7-8 p.m. Mustang Madness in the OM gym will introduce the men's and women's basketball teams along with performances from both the cheer and dance teams.
10 p.m. Haunted Hallways will take place in the Rockland banquet room.
SATURDAY, OCTOBER 20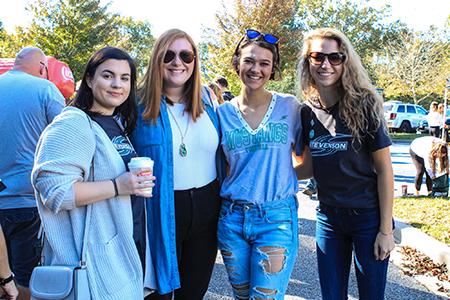 9-11:30 a.m. The football tailgate will be held in the south parking lot of Owings Mills North campus parking lot. Parking will be free, but it will be on a first-come, first-serve basis. Those planning to come with a group should plan to arrive with the entire party to ensure the group will be parked together. Those planning to bring an RV or oversized vehicle should contact Allison Humphries Cuneo through campus email.
Once the tailgating lot is full, traffic will be directed to the other parking lot on the North campus. If necessary, or preferred, attendees can park in the Owings Mills stadium lot and join the tailgate by walking across the Dell Family Pathway which connects the two campuses.
12 p.m. The Homecoming game will kick off in the Mustang Stadium against Wilkes University. General admission tickets are now available online, and there will be a limited number of free student tickets available at The Rock in Rockland Marketplace.
12-3 p.m. A student watch party for the Homecoming football game will be held in the Ratcliffe Community Center.
3-5:30 p.m. Finish the game day with all-you-can-eat Maryland crabs, beverages, and more at the Homecoming Crab Feast in the OM gym. All attendees must purchase tickets, which are $50 for adults and $25 for children under 12. Reserve your tickets here before they sell out.
6-9 p.m. The Dick Watts Athletics Hall of Fame Banquet will be held in the Rockland banquet room to recognize all of the athletes and contributors to Stevenson's athletics. Those who would like to attend may purchase tickets here.
Editors-in-Chief Alyssa Dahle and Maya Murphy contributed to this article.