This year's winter Commencement will be held  on Dec. 17 at the Manuszak Center gym on Greenspring campus, located at 1525 Greenspring Valley Road, Stevenson, Md. starting at 3 p.m. and will last approximately two hours.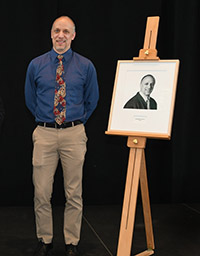 The keynote speaker for this year's commencement is Dr. Timothy M. Dwyer, professor of chemistry in the School of the Sciences. As the recipient of the Rose Dawson Excellence in Teaching faculty award, Dwyer was selected to give this address.
"A fun thing about my job is getting to see everyone graduate," said Dwyer, who urges the upcoming graduating class to be in the moment and enjoy what they are about to accomplish.
According to Pamela Daniels, assistant registrar, a total of 212 students will walk the stage at this December's commencement. Each student will receive six tickets for their guests. All guests, including children, must have a ticket in order to be seated in the gym.
On the day of the ceremony, all graduating students should report to Knott Hall 101 on the Greenspring campus at least 45 minutes before the ceremony starts in order to pick up their name cards and line up for the procession. They should make sure they have their cap, tassel, gown, hood, and any Stevenson-related cords, stoles, or pins with them for the ceremony.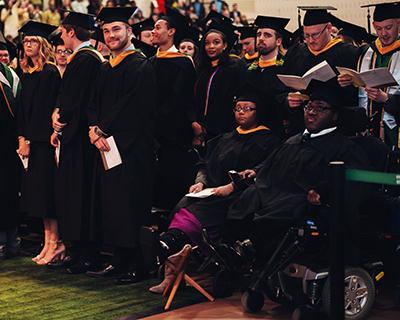 According to the registrar's website, "Doors to the gym will open an hour before the start of the ceremony, so guests are encouraged to arrive early, as seating will be on a first-come, first-serve basis." All guests should be seated by 2:45 p.m. Once the procession begins, guests will not be allow to enter the gym until all faculty, students and honored guests have processed in.
There will also be overflow seating at the Inscape Theatre where the ceremony will be live streamed on TV. Tickets will not be required. Additionally, for anyone those who are unable to attend the ceremony, it will be live streamed online anywhere where there is Internet access at www.stevenson.edu/commencement.
To make this day as stress-free as possible, several additional resources to help students and their friends and families are listed below.
Guests who plan on attending the upcoming commencement and need accommodations for a wheelchair, walker, or special needs can email Lisa C. Labrecque at

[email protected]

.
During the commencement ceremony, guests should feel free to take pictures as long as they remain seated while doing so. There will also be professional photographers who will take pictures that can be viewed at gradimages.com.
Any questions regarding cap and gown should be directed to the campus store at 443-334-2252 on the Greenspring campus and 443-352-4062 on the Owings Mills campus.
Students will receive their diplomas in the mail about one month after graduation. For questions about diplomas or transcripts, contact the Office of Student Accounts at 443-334-3500.
Finally, students will have access to Career Services even after they graduate, which they can contact at

[email protected]

or 443-352-4477.