From Oct. 14 until Dec. 18, the Greenspring Inscape Art Gallery will host a photography exhibit of infrared photographs called "Seeing the Invisible: INFRARED," by photojournalist Walter Calahan.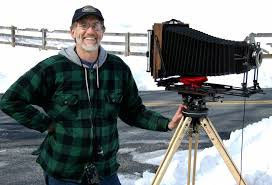 The exhibit will showcase infrared photos, or photos that can't be seen with the human eye, since humans can't see in infrared, but with the help of a special camera, it is possible to take infrared pictures. While the photos will be displayed in black and white, they will show the infrared radiation being reflected off of a subject.
Calahan was asked by the School of Design to display his work as a solo artist, and the topic of infrared came up when he and the curator of the Greenspring Inscape Art Gallery met and looked through his recent photographs. The installation will feature a variety of photos he has taken in the last 10 years in California, Texas, Italy, Pennsylvania, Washington, DC, and Maryland.
Calahan, the photographer, is an adjunct instructor in art at Stevenson. He also teaches at McDaniel College and Howard Community College, and is a professional photojournalist. He has been interested in photography since high school, when he worked for the school's weekly newspaper.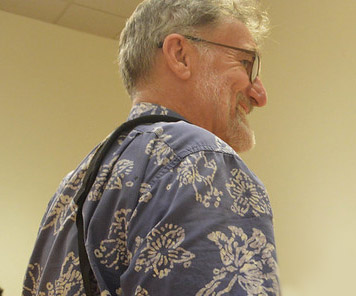 Calahan became involved with infrared photography in order to solve a technical problem with an assignment illustrating the University of South Carolina research scientist who studies loggerhead sea turtles. The turtle hatchlings imprint by the first light they see when they burrow out of their nest, so they could not be exposed to the photographic flash or they would imprint on the flash. Unfortunately, the pictures were taken at night, but discovering that the turtles can't see infrared light meant that photos could be taken with an infrared camera.
He continued to take infrared photos after the turtle project because all infrared radiation is invisible to human eyes even though the infrared spectrum is everywhere humans look. Infrared cameras allow photographers to transfer the intensity of infrared radiation to the visible world, he explained. Where there is no infrared, the photograph appears black, and where there is a lot of infrared, the photograph appears white. The various intensities of infrared appears as a wide variety of gray tones between black and white.
The exhibit will be open to the public. The Greenspring Art Gallery is open 11 a.m. – 7 p.m. on Monday-Friday and 11 a.m. – 4 p.m. on Saturdays. On Oct. 17, there will be a reception from 5-7 p.m. at the gallery to introduce the photographer and his art. On Nov. 7, the artist will give an introduction to infrared photography from 2-4 p.m. on the Greenspring campus at 1525 Greenspring Valley Road.