New artisan pizza spot scores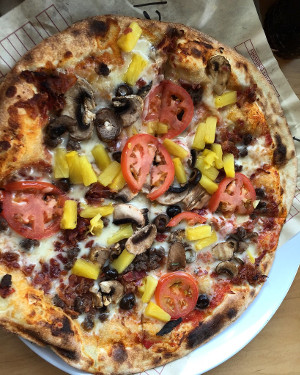 According to Business Insider, one in eight Americans eats pizza on any given day, and brands such as Papa John's and Domino's are losing customers to new, trendy and innovative chains, such as MOD Pizza. MOD's attractive ambiance, delicious pizzas, and first-rate customer service prove it is a top competitor in the pizza industry.
Scott and Ally Svenson dreamed of starting a chain that put food authenticity and the well-being of its employees first. In 2008, the couple opened the first MOD Pizza in their home town of Seattle.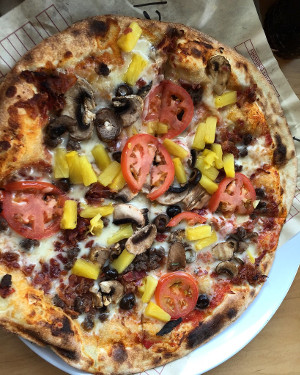 MOD, the original superfast pizza experience, is a casual, make-your-own artisan-style pizza and salad restaurant. Pizzas are individually sized and made on demand. Customers can also choose from over 30 fresh toppings, and the best part is that the price stays the same no matter what you pick.
One of MOD's most recent additions is right around the corner on Reisterstown Road. The location opened during the summer of 2019 and has been a hot spot for Owings Mills' pizza lovers ever since. Once I heard about the chain's recent addition, I decided I had to give it a try.
Upon arrival, however, the inconvenient parking lot, with a limited number of spaces, was extremely difficult to navigate.
So far, I was not impressed, but I remained hopeful.
The restaurant is very casual, yet the space is decorated thoughtfully. It felt like a retro downtown pizza café with its brick walls and personalized graffiti artwork. In addition, the booths and tables were spaced nicely, and each space was cleaned to perfection.
The woman who prepared my meal was cheerful and polite throughout the entire ordering process. She was extremely helpful and remained patient while I debated whether or not to add tomatoes to my list of pizza toppings.
MOD had redeemed itself from its hectic parking lot.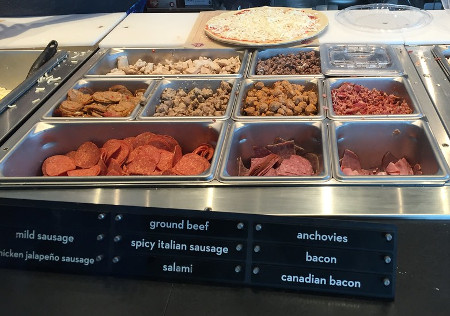 The 11-inch pizza was $8.97, plus a 16 oz. fountain drink, which was $2.17. Because the restaurant was not particularly busy that day, the pizza was ready within 10 minutes. It appeared baked to perfection, and the distribution of toppings did not seem too overwhelming.
MOD allows customers to sit wherever they please and even has an outdoor patio for warmer weather. The indoor sitting area would satisfy both table-and booth-preferring customers. My guest and I opted for a booth.
The size of the personalized make-your-own pie satisfied my appetite without making me feel gorged, and there was a perfect balance between mozzarella, sliced tomatoes, and pineapple. My guest ordered the barbecue chicken pizza and was also pleased with the outcome.
An employee cleaning a nearby table kindly offered to clear our spotless dishes, and we began our trek to the parking lot.
Overall, my experience with MOD pizza was very positive. The food was delicious, moderately priced, and prepared quickly. The atmosphere was cheery, and every employee encountered was polite and willing to help.
In addition, customers can opt to skip the line and order online at www.modpizza.com to carry out. The website is easy to navigate and provides background on the restaurant and the food prepared.
The only downfall would be the Reisterstown Road's inconvenient parking lot; however, the pizza and the employees made the stress experienced outside worth it.
MOD Pizza
1809 Reisterstown Road, Pikesville
(410) 755-7971 modpizza.com
Bottom Line: Though the parking lot is a mess, MOD Pizza's ambiance and food are beyond satisfactory and will live up to any pizza fanatic's standards.
Final Grade: 4/5 stars
Donate to Stevenson Villager
Your donation will support the student journalists of Stevenson University. Your contribution will allow us to purchase equipment and cover our annual website hosting costs.