Interns showcased their work experiences virtually
Every year, student interns get the chance to present and talk about their experiences at the School of Design Internship Showcase, which took place virtually on November 20, 2020.
The purpose of the event is to give Stevenson student interns a chance to present their internship experiences to help students who are looking for an internship. The event was composed of three sections: a student panel, an employer panel, and a poster session.
The internship students represented the Communication, Fashion Design, Film and Moving Image, and Graphic Design departments at Stevenson University.
Ten students were selected from the internship course at Stevenson to introduce themselves and present their information board to the audience and answer audience questions from 1 p.m. to 1:45 p.m. Student interns worked at companies such as CareFirst, Girl Friday, Allied Global Marketing and Northrop Grumman, to name a few.
Junior Marriah Boyd, who attended the event, said her favorite part was the intern introductions at the beginning of the showcase. "It was awesome to see the variety of occupational fields that the Stevenson School of Design interns work in," said Boyd, who enjoyed learning about the different tasks and assignments each intern completed.
The employer panel consisted of representatives or supervisors from companies that students had interned at this semester, which took place from 1:45 p.m. to 2:15 p.m. They represented companies such as DBM Communications, a video production and marketing company located in Towson, MD, and Christine McFarlane Events, a boutique-styled event planning company based in Baltimore, MD. The attendees were also given a chance to ask questions to the employer panel after their introductions.
The final part of the event was the poster session from 2:15 p.m. to 3 p.m., where student interns were broken up into chat rooms that the audience could move to and from freely. This gave attendees to choose who they wanted to learn more about and ask questions to. Boyd said she liked having the chance to easily visit different interns' poster sessions by jumping into various breakout meetings.
Sonya Lawyer, the internship professor at Stevenson University and the woman responsible for the Internship Showcase, said that her favorite part of the event was the entire thing. "I think the best part is when students land internships as a direct result of attending the showcase and meeting employers," said Lawyer. "It happens often."
The Internship Showcase was held over ZOOM this year, which is a bit different than its usual, in-person style. In regard to the event being online, Lawyer said that "a few students mentioned they liked the online format better because they were less nervous about 'approaching' people to talk to them."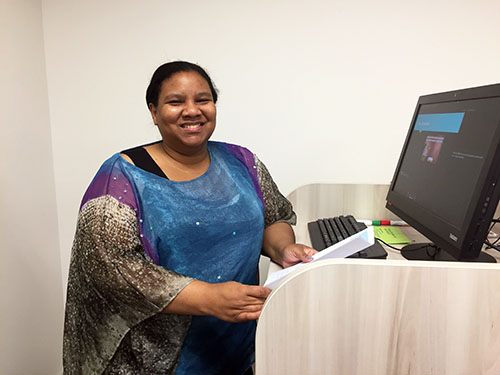 She added that there are advantages and disadvantages to hosting both an in-person or an online event. "With online, attendees do not have to worry about travel, parking, etc.," Lawyer said, "but I do miss the face-to-face interactions."
Overall, Lawyer and Boyd both deemed the event a success this year, and Boyd said she thought it was a valuable experience. Lawyer said she starts planning for the next showcase the minute the previous semester's showcase ends, so keep an eye out for next year's event, whether it's online or in person.
Donate to Stevenson Villager
Your donation will support the student journalists of Stevenson University. Your contribution will allow us to purchase equipment and cover our annual website hosting costs.