Stevenson University offered virtual open houses during the 2020 fall semester due to the spread of COVID-19. The last virtual open house for the fall semester will be held at 4:30 p.m. on Dec. 16.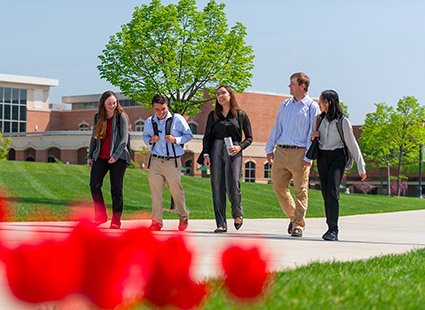 According to stevenson.edu, "Our virtual open houses give you an in-depth look at life at Stevenson." Prospective students can talk to professors about academic programs, take a virtual campus tour, learn about clubs, activities and social life and experience all that Stevenson University has to offer students.
Kayla Keegun, Assistant Director of Admissions, said a benefit of hosting virtual open houses is the ability to reach students across the nation. "Students aren't limited by geographic location, and that allows the university to increase exposure," said Keegun.
Keegun mentioned that, while this transition provided several opportunities, it also came with a few disadvantages. Keegun said that the main disadvantage of the virtual open houses is the distinct sense of disconnectedness. "In the past at open houses, prospective students and families would have the opportunity to visit the campus, talk with current students and faculty members which truly enhanced their experience at Stevenson," said Keegun.
These virtual open houses are open to any prospective student. If interested, prospective students can register at stevenson.edu/virtual. After registering, an email will be sent to the student the day of, as well as prior to, the event. From here, prospective students and their families can watch pre-recorded open house videos, attend a student panel and also attend an academic session.
While open houses may be virtual this semester, prospective students and their families can still sign up for in-person campus tours. According to stevenson.edu, families can enjoy safe, comfortable, socially distanced on-campus tours with one of Stevenson's student ambassadors.
For more information on virtual open houses or campus tours, visit stevenson.edu.