The gates to Owings Mills East have opened once again, and no team is more excited to hit the ground running than a revamped Stevenson field hockey team ranked fourth in the Middle Atlantic Conference preseason coaches' poll.  
Even after just a little over two weeks of practice and scrimmages against Rowan University and Salisbury University, the Mustangs already feel that they are double the threat they were last season, and they are excited to embark on the promising road ahead in the 2023 season.
"We are a completely different team," said senior attacker Carolyn Braziel. "We elevated. We got better skill-wise and connection-wise. We are a more cohesive unit than we were last year."  
Their improvements include a ramped up offensive approach, a reliable set of leadership, and extra devotion to being a fitter, faster, and stronger team.  
Senior midfielder Rylee Leekway agrees that this year's team is not to be taken lightly.  
"We have a good group of girls that came in [for this season]," Leekway said. "We are excited to get at it!" 
Turning The Page & Setting Goals 
Last season, the Mustangs finished 7-11 with a 2-6 conference record. They will look to flip those numbers around, get above .500, and slide their way into the postseason. One way they have already made strides is by ramping up conditioning. The team does year-round conditioning, and second-year head coach Morgan Bitting's phrase of motivation for her team is getting "fitter, faster, and stronger."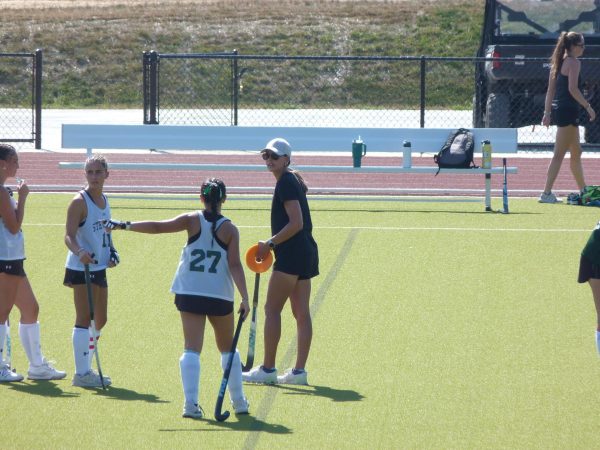 "We lost some close contests last season that we thought may have been due to fitness," Bitting said. "We've already seen in the buy-in from the team to get fitter, faster, and stronger, and we've already seen it pay off during the preseason." 
The Mustangs are confident in their basic skills and passing game, as that was the focus throughout last season. 
"Now that we have all come in having known those basic skills, we have picked right up where we left off [from last year] and it is looking really good for this season," said senior attacker Macy Kosanovich. 
This season will be about being more aggressive on offense. They finished 14th in the MAC last season in shots (181) and 10th in goals (35). However, after what they have accomplished in practice and after obliterating Sewanee 8-0 on Saturday, they have made it known their devotion to being more aggressive on offense.  
"This year, our whole team is more attack mind-setted," Braziel said. "Once we pick up the ball, we are trying to score. Once we get [the ball], we are going [for the goal]." 
The Mustangs acknowledged that last season felt like a new era, that it was tough trying to connect as a team at times. They feel that the team dynamic has taken a complete 360 so far, and they credit that to team bonding. 
"Team bonding is a great way to have a better feel of how you are going to play with each other on the field," said senior midfielder Meghan Huey. "If you have those connections and that communication, it just plays out so much better in the game."  
"It really feels like a family this year," she continued. "I am really excited to how those relationships play out on the field." 
Braziel said that this year's team is "night and day" compared to last year.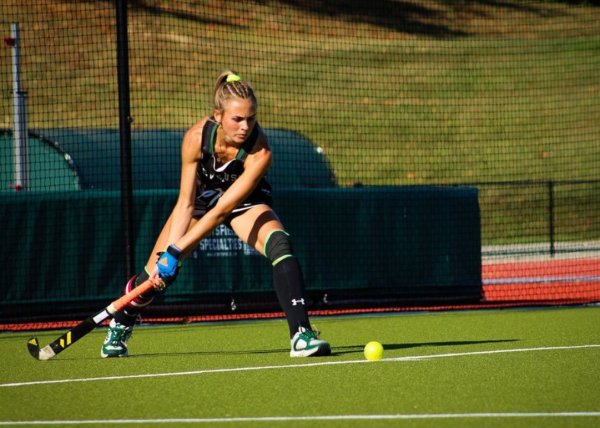 "You could tell we had never played together last year, that it was a new program," she said. "This year, we did not have that rough patch. We look like a real team that is trying to play for each other and with each other to do bigger things." 
The Mustangs have warned teams that they are not the same team as they were last season.  
"I feel like we have been underestimated already by other teams," said senior attacker Emma Gladstein. "I do not think other teams really know what is coming for them this year. We have already played so well, and it looks like we have been playing together for a long time." 
Recruit! Recruit! Recruit!
Bitting and her coaching staff are constantly active in recruiting for Stevenson field hockey. Year-round, she travels to different clinic camps recruiting events, and high school games in hopes of finding future Mustangs.  
As a result of her recruiting, she gained 11 first-year players this season, in addition to four total transfer students in the past two years. 
"It's exciting to know that they come from five different states, they played for top club teams in the country, they played for top high schools in the country," Bitting said. "Some of them are state, district, and conference champions, you name it. We have it in our incoming class, and we have already seen strong play from our incoming class." 
"When you see a strong class come in, it is very exciting," Huey said. "I am excited to see, even after I am gone, how these strong players keep working hard and growing every single day." 
Bitting is proud of the way that her veteran players have stepped up to welcome the first-years. 
"It was awesome to see the returners welcome our 11 newcomers and teach them how we play, perform on and off the field, and train year-round," Bitting said. 
Senior Captains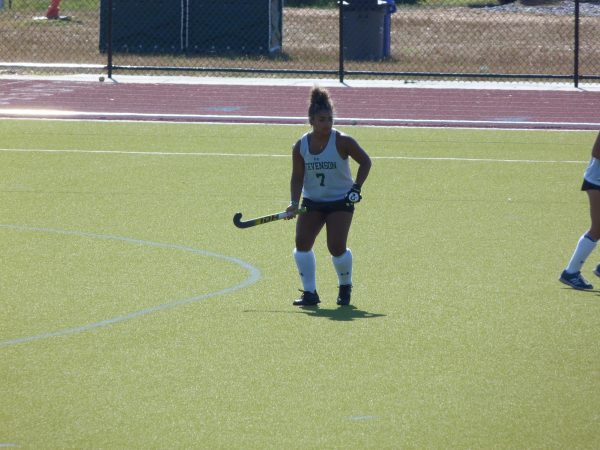 Jamie Fritz is passing on the leadership torch this year. A 2023 spring graduate who graduated with a degree in education, Fritz was the lone senior and goalie last season. Her personality and leadership has carried over into this season with a lasting impact on the program. 
"She was like a mom on the team," said Leekway, also an education major. She said that a key point that Fritz taught her about leadership is that "knowing your role as a leader is not only on the field, but also off the field."
"She always showed up and she always showed out, and it was awesome to see," said Braziel, who was Fritz's roommate last year. "Now we have a team of goalies. They can help each other get better. Before that, it was Jen and Jamie, and it was us shooting [goal shots] on her." 
"Jamie was always there, and she was always positive, and we miss her," said Kosanovich. "Now we have what I think she wishes she had when she was here. That is important for us." 
Leadership is now in the hands of this year's senior class which was responsible last season for 25 of the team's 35 goals and 61 of the team's 89 points. They are: 
Attacker Carolyn Braziel

 

Attacker Emma Gladstein (transferred from the University of Delaware prior to the 2022 season)

 

Midfielder Meghan Huey

 

Attacker Macy Kosanovich

 

Midfielder Rylee Leekway

 

Goalkeeper Eve Vickery (transferred from the University of Delaware)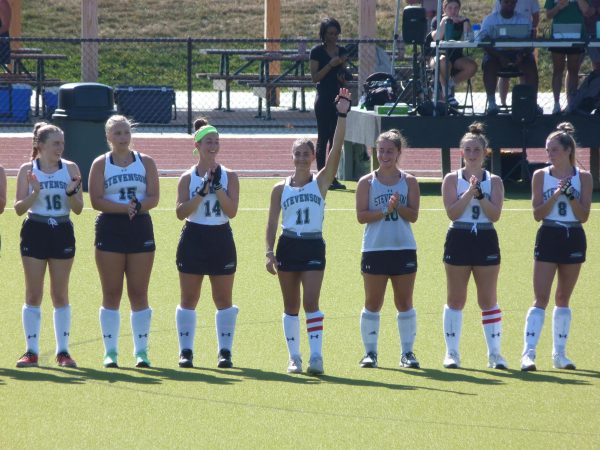 A class that battled the COVID-19 pandemic and uncertainty fought back to get to where they are today. A class that was aided by the addition of DI experience in Gladstein and Vickery stands at the ready in bigger ways than ever before. They stand proud of what they have accomplished thus far, and they are ready to make a dynasty of a group in their final year together.   
"Being able to have us all come together, to take all of our experiences, and compile them into one team has been absolutely amazing," said Huey, a 2022 All MAC second team selection said. "We haven't backed down, and we are not going to."
"Experiencing being in a conference tournament and winning it is one of the best feelings that I've had," said Gladstein. "I want to get back to that feeling but with this team because I love this team. We are going to make an impact on the rest of Stevenson field hockey history." 
The senior class also stands ready to set an example and pass knowledge down as leaders as the program begins yet another transition next season following this class's departure. They want to pass both on-field and off-field knowledge down to the younger players. 
Braziel, who is sidelined as she recovers from an Achillies tear, enjoys taking on a leadership role for off the field duties. She has helped teammates get to their classes at Owings Mills North.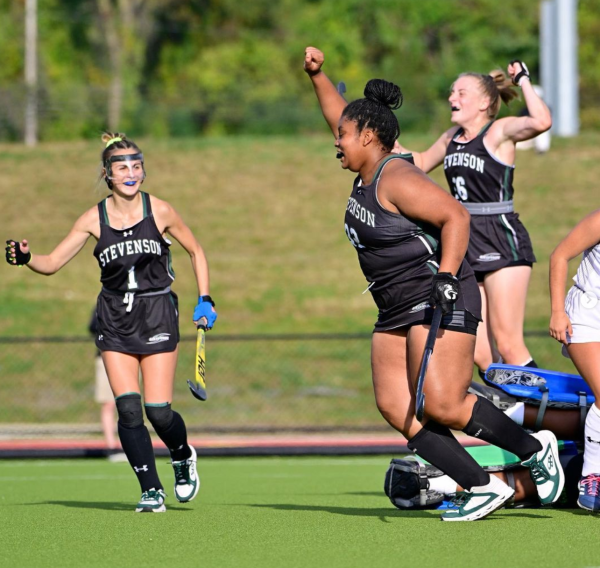 "I talk about the human side of us [players]," she said. "We are people. Helping off the field while we have senior leadership helping on the field is a whole package of leadership." 
So, what are some words of advice that they want to share with the rest of the team? 
"Bring the energy every time you step onto the field," Kosanovich said. 
"You have to trust the process because your time will come," said Leekway, who led the Mustangs last season in minute played (1,036). "You have to put in the work." 
Morgan Bitting's Vision 
A big part of a team's success is the players' trust in their coaching staff, and the Mustangs are all in on what Bitting has planned for this team.  
The 2022 season was the first for Bitting, who became a Mustang after two seasons as an assistant coach at the University of Delaware. A 2019 graduate of Duke, Bitting's vision for Stevenson field hockey is now in full swing as she enters her second season. 
"We are blessed to have incredible resources and facilities here [at Stevenson], and to know that we can have success here very quickly," said Bitting, a former team captain for Duke field hockey. "My vision for the program is we continue to get a 
little better each day and each season, and our ultimate goal is to qualify for the MAC playoffs this year." 
Her players are on board with what her and her coaching staff have planned for the years to come. 
"They all come from a lot of knowledge of field hockey, so them rubbing their knowledge off on us is pretty incredible," Leekway said. 
"We are all very grateful to have her [here at Stevenson]," Huey said. "She has great experience with high level play, and she has brought that to this Division III level. Obviously, it was a change last year, but I know it is what was best for the program. We needed someone who was going to believe in us not just as players, but as people." 
"She has really good intentions and she wants what is best for us whether it is being an athlete or being a student," said Gladstein, who followed Bitting from the University of Delaware as a transfer prior to last season.  
The Climb 
Armed with eleven new players and an aggressive offensive approach, Stevenson field hockey comes in after a refreshing offseason ready to fire on all cylinders. Their eyes are on the prize, a MAC championship. However, they know exactly what the backbone of success will be if they want to get there, and it is summed up in Bitting's slogan for the season: 
Fitter, faster, stronger.
Stevenson field hockey is off to a 2-1 start after beating McDaniel College in enemy territory yesterday by a score of 2-0. They will return home next Tuesday when they host Virginia Wesleyan University at 6 pm at Owings Mills East.