Since the 2014-2015 school year, the Office of Service-Learning has been organizing and planning an event where students would be able to present their work from experiential learning experiences inside and outside the classroom.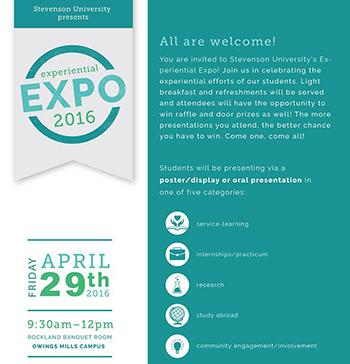 Dr. Christine Moran, associate dean of service-learning, and her team envisioned an on-campus event that would showcase these students' work to others in the community. On Friday April 29, their dream will become a reality.
Beginning at 9:30 a.m. in the Rockland banquet room, students will have the opportunity to present their experiential activities from the months between May 2015 and April 2016. These will be from five different categories: study abroad, internship/practicum, service-learning, research, and community engagement/involvement. Presentations will be in the form of an oral production or a poster/display. The poster presentations will begin at 9:30 a.m. and the oral presentations will follow at 9:40 a.m. in Rockland A and B. The oral presentations will continue until 11:20 a.m.
Students applied through an application on a Google Doc posted and available to Stevenson students in March. The students listed the work that they will be presenting under one of the five categories. Applications were approved by a committee for presentation at the Expo. Ranging from freshman to seniors, a diverse group from Stevenson's community will be represented at this event. Sophomore Shanelle Abdullah said she is most looking forward to "seeing the awesome, talented work students have accomplished within the past year."
In addition to Moran working to plan and execute this event, student assistants Shanelle Abdullah, Emma Ragon, and Sarah Healy worked to see the event come to fruition. Ragon said people should attend because it is "eye-opening for people to see what their peers are doing, especially because it could lead them to explore a career path, a course, or a club that they are not involved in."