Stevenson University's competitive cheer team recently traveled to Daytona, Fl., to compete with some of the best in the cheerleading world.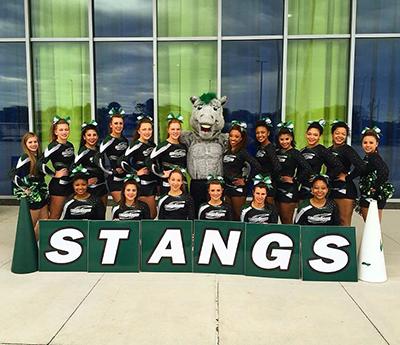 Brittany Crim, assistant competitive cheerleading coach for Stevenson University, said this year the Mustangs came in sixth place overall out of the 14 teams competing in the National Cheerleading Association Collegiate Cheer Championship (NCAs). There are 18 cheerleaders on the Stevenson team.
Competitive cheer takes strength and skill to perform in complete unison as a team. Crim said that in this sport, endurance is key to success. The cheerleaders are required not only to train as a team, but they also train and practice during their free time to prepare for the competition.
Samantha Fania, a sophomore who stepped in for the team, said that her teammates "worked very hard and really pushed themselves every time we were on the mat."
Crim explained that the team has had three practices a week since October to prepare for the NCA Nationals; two of those practices were three or four hours long, and the team has also been putting in work outside of practices. Most go to the gym on a daily basis and also run each day.
Caterina Sorrento, a sophomore who has been on the team for two years, said, "A diet is highly important because as a top girl in stunts, making sure my weight wasn't fluctuating was essential."
After all the preparation, the team arrived in Daytona, Fl., for NCAs on April 6 and began practicing for the competition. They competed in the DIII all-female advanced division in the preliminary round and were successful in moving into the final round the following day.
Fanai said her favorite part of the experience at NCAs was seeing former cheer friends she had made throughout her years of all-star cheerleader.  Sorrento added that she loved watching her team perform a routine that had zero deductions. "This was priceless, especially because I know how much hard work was put in this season to get there," she said. The team was also able to spend some time on the beach to relax from the competition.
After competing this year, the team is ready to start preparing for next year's competition. Crim said she is looking forward to gaining new team members to work with the veterans in preparation of the 2017 NCAs.