Students design unique graduation caps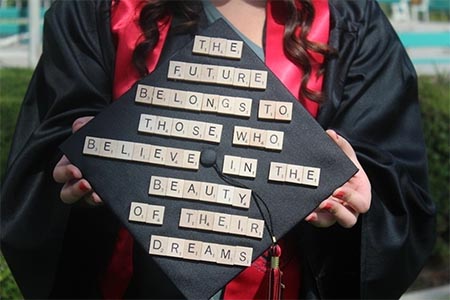 With graduation season quickly approaching, audience members can expect to see the graduating class in the classic black and white commencement gowns, along with colorful and personalized caps.
GRADUATION DECORATING MARKS FINAL MOMENTS FOR GRADUATES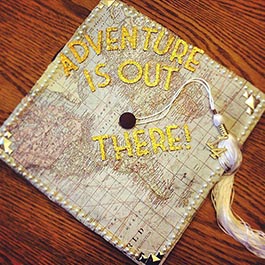 Recent years have seen an ongoing trend of personalizing the undergraduate graduation cap, though it's uncertain when this trend started. For many graduating seniors, cap decorating is a special event when they get together with close friends and mark the important milestones or accomplishments throughout their college career on their cap.
Just ask graduating senior Katie White, who said that on a scale of 1 to 10, she's at a "20! I am so done with school. I cannot wait to start my career." White added that many of the inspirations for her cap decor stemmed from Pinterest. "The only idea I really had was glitter and something to do with nursing, since I'm a nursing major," White said.
On Pinterest, there are over 3000 different themes, photos and animations to imitate. Cap décor ranges from quotes like "I know I whined a lot but I did it," to elements of their favorite fictional characters, like Harry Potter.
DECORATING CAPS IS OPPOSED BY MANY SCHOOL OFFICIALS 
Although decorating the graduation cap may be something seniors look forward to, some are highly opposed to the practice. In a news article in "The Campanile," Jeffrey Ho spoke about how many school officials at the college see this decor as unprofessional, as well as a cause for unnecessary stress on students. He wrote that universities teach students to strive for individuality, but then when they personalize memorabilia, it's criticized by faculty. Ho explained that he believes the decorating of the graduation cap "represents one final time that a student can demonstrate singularity with respect to others."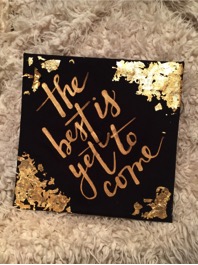 Even students who have graduated already will tell you that cap decorating was one of the key elements that allowed them to understand they were finished with school. Folarin Falade, who graduated in the class of 2015 at University of Maryland College Park said, "Cap decorating with my friends was the moment it sank in for me that I was really graduating. It's kind of like that last couple of bonding moments you'll share between your close friends before graduation."
For Folarin, "It's more than just decoration. It holds meaning for a lifetime. Six years down the road, I can look at my personalized cap and say, 'I remember those days.'" No one knows for sure if there will be a ban placed on decorated graduation caps, but for now, audience members can expect to see many interesting and creative caps in this graduation season.
Leave a Comment
Donate to Stevenson Villager
Your donation will support the student journalists of Stevenson University. Your contribution will allow us to purchase equipment and cover our annual website hosting costs.