After much preparation, hard work, and sheer determination, senior students in Visual Communication Design (VCD) and Film and Moving Image (FMI) will showcase their creativity and effort with shows will be on May 12, 2016.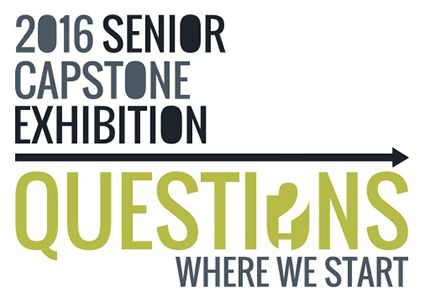 The final projects of the VCD seniors will be on display beginning at 5 p.m. in the Art Gallery on the Greenspring campus. A total of 16 students have spent about 15 weeks generating their projects. Falling under an umbrella theme, "Questions," each of the projects expands upon one of five concepts: happiness, stigmas, values, identity, and memory.
Each installation has several components including a social media platform, an artist statement of intent, and the project itself. Projects include movie animations, poster series, photography series, and more.
Lori Rubeling,  professor of art and visual communication design, explained the significance of the seniors' work: "What's interesting is how students' subject matter is personal; it works from a personal investment… contextualizing it and communicating it to an audience is what visual communication is all about. She added, "Capstone is a demonstration of students' synthesis of learning… It becomes a gateway for non-practitioners to understand the processes and ideas involved in design."
Senior FMI students' films will be showcased at 7 p.m. in the Inscape Theatre, also on the Greenspring campus. After about a year of preparation, 10 FMI seniors will reveal their works. Students chose a subject they were most interested in with an option of writing a feature or directing a short film or documentary. Students also had the option of pairing up for the project, as long as each student assumed a key role. Film is a collaborative process, so students have learned how to work together on extensive projects.
This year's show will include two documentaries and eight narrative short films. Dina Fiasconaro, associate professor of film and video, reinforced the idea that the showcase is for everyone, since it includes comedy, drama, documentaries, and real-life stories. Additionally, the event will screen two  projects from a junior-level course called Narrative Production, according to Fiasconaro.
"I think there's a misconception sometimes that filmmaking is easy, but there's a pretty laborious process that you go through," said Fiasconaro. Students have been working on their projects for a full year or longer. All are invited to attend the event.