The Stevenson University women's soccer season is in full swing as they prepare to take on Frostburg State University on Sept. 15 at 7 p.m. in Mustang Stadium.
With the team projected to place third in the Mid Atlantic Conference (MAC) Commonwealth, they need to continue to strive to meet their goal of taking back the conference title.
"During practice, the team is strong and has great chemistry and energy with a mix of experience and youth," said coach Graeme Miller.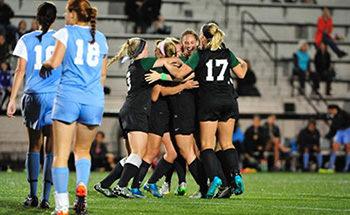 "Mental preparation for game day in practice is very important. I like to stay focused on the reason I am at practice in the first place; to get my teammates and I ready for upcoming games," said Jordan Porretto, team captain.
Miller has added standout alum Allie Ondrejcak '15 to the coaching staff as a graduate assistant. She concluded her Stevenson soccer career as a four-time All-MAC Commonwealth selection.
The team recently traveled abroad to Spain for nine days to play four friendlies. They also took some time out of playing soccer to visit museums and view local architecture.
"The characteristic that sets the Stevenson soccer team apart from others is our depth. We have a lot of talent in various positions, with our first game playing 24 players and our second game playing 25," said Miller.
"We do not have any special cheers but each girl has her own schedule to warm up, and I do go in and talk to them and get them ready with a pep talk," added Miller.
The team believes staying focused mentally and physically while practicing and reaching an end goal is key to the success of the team. Hard work and discipline also play a role in the ongoing season.
Against Methodist University on Sept. 2, a game played at Salisbury University, the Mustangs came away with a 4-2 victory, sparked by two goals from senior Alexis Siejack. That win was followed by s streak of three losses, including a 1-0 defeat at Gettysburg College, a 2-0 home shutout to St. Mary's College (Maryland), and a 2-1 Sept. 14 loss to Catholic University. With a shot percentage of .108 through Sept. 15, the Mustangs hope to increase their firepower as they move deeper into the season.