Stevenson University's women's volleyball team hopes to have another successful season despite many new faces on the 2016 roster. With a Sept. 7 win over Messiah College, one of the Mustangs' toughest opponents, the team feels confident about matches ahead.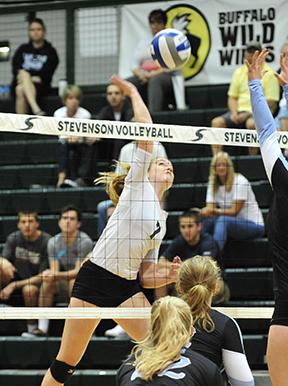 Starting the season off with a 9-2 record overall, the Mustangs want to keep improving. This is done through "fun and competitive practices" as well as "game-like scenarios," according to head coach Dave Trumbo, in order to give the team a glimpse of what they could face throughout the season.  Trumbo, who is starting his 10th year as the Mustangs' head coach, has compiled an impressive record of 253 wins, 11 All-Americans, 26 All-Conference selections, three Player of the Year selections, three Rookie of the Year selections, and five straight appearances in the NCAA Division III Women's Volleyball Championship, according to www.gomustangsports.com.
Junior defensive specialist Megan Hren agrees with Trumbo: "There is a lot of depth on the team and a lot of talent, which makes every practice interesting and fun."
When tryouts concluded, six freshmen made the final team: Emily Castro, Trang Christensen, Darian Hillman, Katie Leftridge, Julie Nightwine and Victoria Prokic. Trumbo said he thought they were handling college play well and Hren added that they rookies made the game faster. Three of the freshmen already have seen playing time, especially middle hitter Victoria Prokic, who was Carroll County's player of the year at Century High School.
"Victoria is doing very well as a middle, especially since she's only a freshman," said Hren. Playing time from this group of new recruits will only help the Mustangs in the coming years.
TEAM CHEMISTRY FOSTERS CONFIDENCE
After the 2015 season, the team only lost two seniors, making the current team a tight-knit group with a strong chemistry. Trumbo said "the team still has a positive culture like in the past years" due to the leadership displayed by seniors Sara Bollinger and Kristen Brooks.
Trumbo explained that Bollinger is a great leader because she spends time teaching the setters along the way and that Brooks is a great leader on the court. He added that junior outside hitter Annika Schwartz is still leading the team in kills and has a part in every serve received.
"The team feels confident going into big matches," said Trumbo, and with additional wins against Frostburg State University (3-0), Lawrence University (3-0), University of Wisconsin-Plattville (3-0), Messiah College (3-1) and McDaniel (3-0), the Mustangs believe they are well prepared for the season.
The team's main goal this year is to make it to the Sweet 16 after they win the Middle Atlantic Conference (MAC) championship, said Hren. For the last five years, the Mustangs have made an NCAA appearance, and they hope to repeat that feat this year.