Cheryl A. Wilson, Ph.D., the new dean of the School of Humanities and Social Sciences, is delighted to be a part of Stevenson University and hopes to strengthen the School of Humanities and Social Sciences as well as the students' experience at Stevenson.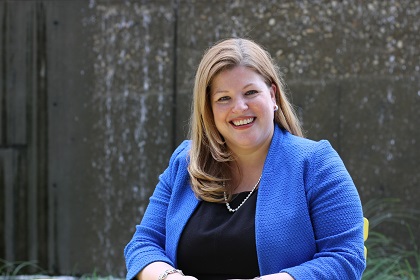 Wilson completed her undergraduate degree at SUNY-Geneseo, and then obtained her Ph.D. in English at the University of Delaware. She joined the English faculty at Indiana University of Pennsylvania and later moved to the University of Baltimore, where she became the chair of the School of Communications Design.
In summer 2016, she joined the Stevenson community as the new dean of the School of Humanities and Social Sciences.
Wilson says she is dedicated to finding innovative ways for students to learn, integrating different majors for new learning opportunities and meeting faculty and board members one-on-one. She is passionate about creating a memorable and practical educational experience for Stevenson's students, paving the way for their futures. Wilson wants to set Stevenson apart from other schools in the area, creating the best learning environment possible.
Laura T. Smith, department chair and associate professor of English, said Wilson has made it a point "to observe and listen for her first year." Smith believes that the new dean is trying to understand the culture and the needs of the students, faculty members and staff.
Smith has met with Wilson, and they have talked about building the schedule of spring courses for 2017, which is a challenge due to the addition of a third campus and transportation issues, said Smith. Winterim courses are also on their radar. Smith describes everyone being in a "get to know you" phase, and believes that Wilson will bring great guidance and knowledge to the School of Humanities and Social Sciences.