As fall sets in, the Mustangs cross country season is in full swing. Stevenson's men's and women's cross country teams continue firing on all cylinders.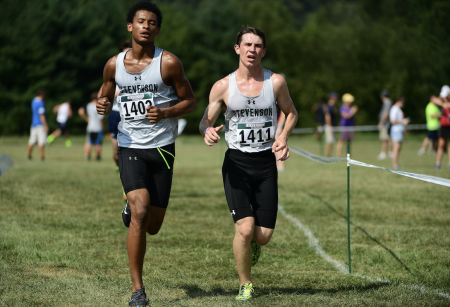 Both teams have dominated in their meets, finishing in the top 5 if not the top half of all participants. Coach David Berdan, in his third year at the helm, has turned the team into a contender in the Middle Atlantic Conference (MAC). Berdan knows a thing or two about winning races, having most recently won the Baltimore Marathon himself.
The team includes one senior on both the men's and women's team combined. With no senior leadership, some teams would face leadership issues, but not the Mustangs.
Berdan said, "Most of them [the runners] are good leaders. Even though they are sophomores, they came in, had the same goals we have, want to be good and have taken control."
With the current class of sophomores being his first recruits to commit to the program, the program seems to have struck gold. Sophomore Langston Gash recalled his recruiting experience as enjoyable.
"We would be the originals," he said. Gash had a phenomenal season last year finishing in 21st place in the NCAA Mideast Regional meet at Dickinson College. "It was nerve-racking, but it was fun," he said as he looked back on the experience.
The women's team has the same ideals as well. The team has found success even with their lone senior Claudia Lohr, finishing in the top half of their meets and winning the Goucher Cross Country Classic on Oct. 8. Sophomore Kelly Winklbauer also reflected on her recruitment process, as she was a part of the recruiting class as well. "I love being the first class, because you get to see the start of something," she said.
With the season drawing to a close, both teams only seem to be picking up speed. They are looking forward to improving their performance from last year at the Middle Atlantic Conference meet. "We're right where we need to be," Gash said, as he expressed confidence in his team. With a game plan of playing the race conservatively, the men's team believes they can make some noise at the conference meet.
The women have been making strives to improve as well. Winklbauer believes the women's team has progressed well and continues to close gaps.
"The girls don't give up on each other," Winklbauer said as she praised her teammates' work ethic and continued improvement.
Both the women's and men's team return to action on Oct. 21 at the Lebanon Valley Last Chance Run Fast meet hosted by Lebanon Valley College. After that, they travel to Messiah College for the Middle Atlantic Conference Championship.