Along with a new men's ice hockey team, Stevenson welcomes coach Dominick Dawes, who, though he has never started a program from scratch, has been around the game for many years, with some outstanding accomplishments under his belt.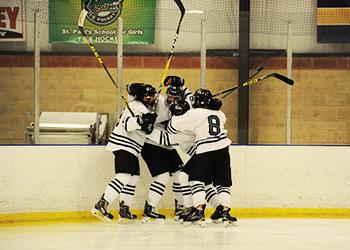 The challenge of starting a new program intrigued him, said Dawes, and his choice to come to Stevenson was based on the "vision and growth of the university." With a mission to get every athlete on board, his hard work and determination has assembled a team that had its first official practice on Oct. 17 at the Reisterstown Sportsplex.
The team's first home game will be Friday, Oct. 28, at 7 p.m. against Morrisville State College. The two teams will also face off the next day, Oct. 29, at 5:30 p.m. Dawes said that the players are "very excited to get on the ice and start building a foundation."
The following weekend, the Mustangs will face Elmira College and Hobart College in a home stretch at the start of a daunting season.
The team has set goals for their upcoming season and for seasons to come, including setting in place a foundation for the future, and making sure each team member strives to get better every day.
Dawes has coached at schools that are similar in size to Stevenson, explaining that he enjoys the level of support and the feeling of community here.
He has recently hired Matt Bruneteau as the team's assistant coach for the 2016-17 season. After playing four years of college ice hockey at Lake Superior State University, Bruneteau played two seasons in the ECHL. He has since spent the last two years playing for the Etoile Noire de Strasbourg club in France, appearing in 52 games, according to gomustangsports.com.
The Mustangs were picked to finish seventh out of eight teams in the 2016-17 ECAC West Preseason Poll. Other teams in the league include No 1. Hobart, No. 2. Utica, No. 3. Neumann, No.4. Manhattanville, No. 5. Nazareth and Elmira and No. 8. Lebanon Valley, who is also in their inaugural year.