The Stevenson University cross country teams are preparing for the Middle-Atlantic Conference (MAC) Championship on Oct. 29, at Messiah College.
Head coach Dave Berdan has led both the men's and women's cross country teams to successful seasons, finishing in the top half of every contest. Despite the cross country program being in just its third season after a comeback, this high level of performance comes at no surprise to Berdan and his teams. The runners came into this season with the expectation that they were going to build upon strides made last year, said Berdan.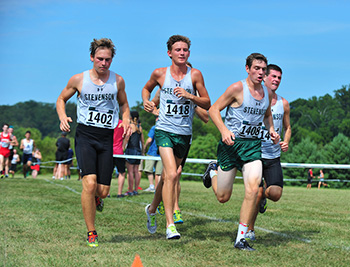 On paper, the Mustang's cross country teams are young and inexperienced, with 37 of the combined 40 runners being underclassmen. This composition could be linked to a lack of focus and leadership in the sports world, but this is not the case at Stevenson. The Mustangs have been able to avoid these problems because of their determination. The teams mentally prepare as if the rosters were stocked with veterans.
"We do talk about goals and expectations heading into these last few meets, but they know they have to put in the work and are prepared to run well," said  Berdan, who called the teams "self-motivated." There are no secrets or tricks to doing well in cross country, but Berdan credited the runners with understanding that the results are a direct product of the work that they put in every day at practice.
Sophomore runner Brett Olin credits this season's success to both Berdan's training regimen and the team's determination. Olin said that the team is full of runners who have "a desire to be great," and exhaust themselves in the pursuit of becoming an elite program. Olin added that sophomore runners Langston Gash and Sam Mercoli have stepped into leadership roles for the men's team, but many others demonstrate leadership qualities as well.
The program did not run at the LVC Last Chance Run on Oct. 21, in order to prepare themselves both mentally and physically for the upcoming championship meet. After three weeks without a contest, the men and women's teams hope to continue their impressive performances at the MAC Championships on Oct. 29 to close out their regular season.
Berdan will rely on the team's motivation and mental toughness as the temperature continues to drop when postseason begins in November.