With rosters that continue to grow only in their third year, Stevenson's swim teams are focused on the Middle Atlantic Conference (MAC) competition culminating in early February 2017.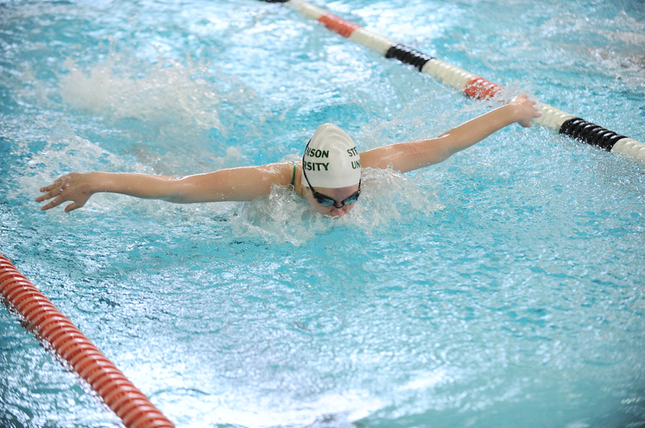 Coach John Stuhltrager said he has watched for improvements in his swimmers since early in the season. The team is not worried about wins or losses but rather focuses on improving and continuing to gain strength in the pool.
"I look to develop my kids throughout the course of the year," Stuhltrager said. The same sentiment was echoed by senior Adrianna Kamosa, whose focus is on bettering her times.
"My goals are definitely just to get faster, beat my times," Kamosa said.
The men have yet to win this year and sit 0-5, while the women have won four out of their seven meets. Stuhltrager also says the wins and losses don't matter to him or the team.
"For us, that doesn't matter at all because when we go to our conference meet, it's 0-0," Stuhltrager said.
Stuhltrager has seen some of his swimmers perform quite well early in the season. "We have a couple of kids. I think of Jaq [freshman Jaq DeLeon]… He's stood out on the men's side." DeLeon swims the men's 200-yard IM. On Oct. 5, DeLeon finished second against Lycoming and Dickinson.
On the women's side, Stuhltrager mentioned Oliva Snyder, Colby Stein, and Lindsey Weisharr, who all swim the 100-yard backstroke, and he's optimistic that all three will make the finals. At the Oct. 5 meet against Lycoming, and Dickinson, Snyder came in third, Stein came in fifth and Weisharr came in eighth. In that same meet, freshman Melanie Milam stole the show, setting two school records in the 200-yard freestyle with a time of 2:02.40 and in the 100 freestyle with a time of 56.50. Freshman Isabelle Ramsland also broke her own school record in the 100 butterfly with a time of 1:03.88. Juliana Burnett won the 100 breaststroke with a time of 1:11.31.
On the men's side, Zachery Carter finished second in the 100 butterfly and freshman Stephen Krater took third in the 200 freestyle.
The next meet for the swim team is Nov. 12 at King's College.