The Stevenson University women's basketball team is wrapping up conference play and has their sights set on MAC conference playoffs. As of Feb. 9, the team was 15-8 overall and 10-8 in the Commonwealth Conference, in third place behind Albright and Messiah.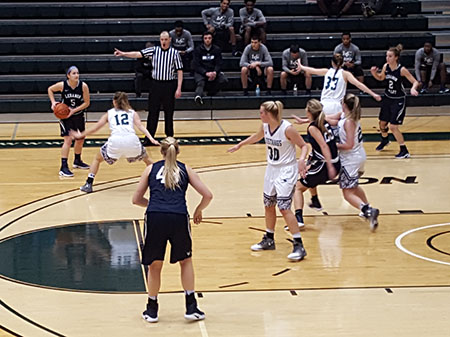 The Mustangs are led by head coach Jackie Boswell in her sixth season; she is assisted by five other coaches: Rob Slopek, Liani Adair, Ray Brown, Tyrell Howard-Franklin, and Cassie Puls.  Katelyn Fischer serves as a graduate assistant.
Boswell praised the assistant coaches: "They take on very big roles. We split the scouting responsibilities as well as each coach having a specialized role within the team itself. Our success has come from the coaching staff that we have put together and keep together."
Senior captain Niavanni Grant described the assistant coaches as "the ones to stay positive and turn to for questions." Every member of the coaching staff puts in the time and energy to help make the team successful, she added.
Along with the leadership from the coaching staff, the three seniors — Sara Tarbert, Kameron Ward, and Grant — have all taken on different necessary leadership roles.
Tarbert scored her 2,000th career point on Feb. 4 against Widener, becoming the 19th player in NCAA Division III history with 2,000 career points and 1,000 career rebounds. All three seniors are transfers from another school. Boswell said she is "grateful that when they picked somewhere else, they came here." She praised them for how they have helped the program thrive.
In the beginning of the season, the team set goals, and Boswell described one specific team goal: "a team goal we have on a game-to-game basis is to hold the opponents under 57 points. It's a visible goal we can see every day to strive for." Along with that goal, Grant adds, "Another team goal is to be the leading rebounding team in the conference."
As the regular season is wrapping up and the team is preparing for post-season, Grant said, "I'll miss the locker room laughs and talks the most. The locker room is where we can be ourselves."  The team returns home for their final regular season home game against Alvernia on Feb. 14 at 6 p.m.