A mission to change lives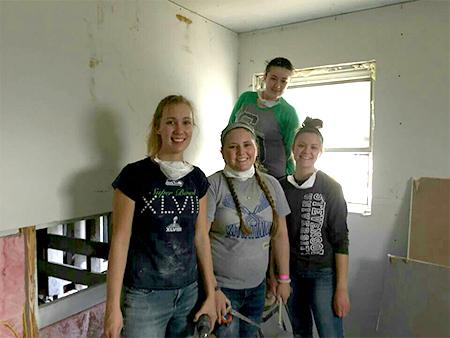 On Jan. 7, 26 Stevenson students, alumni, faculty and staff members rebuilt houses and served the community in New Orleans, Louisiana, for the annual Mission: I'm Home trip.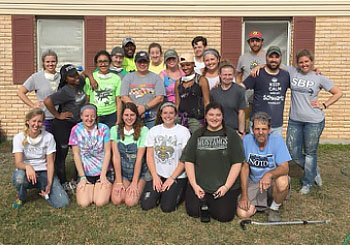 The 26 participants helped the Arabi, Louisiana, neighborhood where Hurricane Katrina had the most impact. During the trip, students completed dry walling, insulation, painting and tiling for three houses, totaling 780 hours of service for the entire group. The participants worked Monday through Friday on two different houses.
Reflection was also a part of the trip. Participants were given the chance to share their thoughts as each day ended.
Morgan Somerville, director of student engagement, said that this was a life-changing trip. Students not only made their mark on the houses, but they also worked alongside as strangers and grew as a family. Through serving and getting to interact with the homeowners, everyone saw their work as something more than just building houses.
When Katrina happened, junior Lauren Novsak said she remembered watching it on the news, but it wasn't until she got down there that she saw how bad things were.
"Through reflection, I realized the power of volunteering…going into someone's house is very intimate, and it helped me become more grateful and appreciative of my own circumstances," Novsak added.
Some students on the trip had previously worked on areas that were affected by Hurricane Sandy and added a different perspective to this trip. Somerville added that, having participated in the service experience, students have jumped to make a difference not only during the trip, but back on campus and in their hometown.
The participants enjoyed time in different areas of New Orleans. Participants tried beignets in the French Quarter and visited the Lower Ninth Ward where the levees broke. Participants visited museums during their free time and learned about the richness of the area's culture.
The Mission: I'm Home trip has been serving areas in need for nine years through 12 different trips. These trips included over 500 students with only more to come when Mission: I'm Home serves Baton Rouge from March 11-17, 2017.
Leave a Comment
Donate to Stevenson Villager
Your donation will support the student journalists of Stevenson University. Your contribution will allow us to purchase equipment and cover our annual website hosting costs.