Applebee's Neighborhood Grill and Bar is a friendly and casual restaurant located in the Reisterstown Road Plaza in Baltimore, MD. Applebee's is the perfect spot for anyone to enjoy a tasty meal, relax, or to have some drinks with friends. College students are among the majority of the restaurant's regulars, whether they're out for study groups or just to take a load off.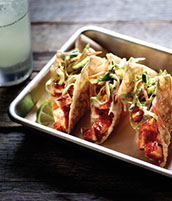 The franchise is known for having a pleasant atmosphere that attracts people of all ages to enjoy excellent food and attentive service. The staff is personable and welcoming, ensuring their guests' comfort so they have the best dining experience possible.
Applebee's menu is diverse with a variety of choices for everyone. They offer chicken, burgers, pastas, salads, and even seafood. The popular restaurant is also known for its exotic drinks created at the bar.
Diners have the option of being seated at the bar, if they are of age, or at booths or tables. Once seated, guests can order a drink from a variety of teas, lemonades, and Coke products besides the bar menu. Touchpad devices on tables can be used to look at the menu and place orders without the need to involve the waiter or waitress. The new technology is trending in the restaurant industry and creates a smooth and timely transaction.
Applebee's prices are fairly affordable for the average customer. However, the restaurant has a menu special that catches everyone's attention. The popular deal is the "2 for $20." It consists of two entrées and one appetizer for the low price of $20, perfect for a couple out on an easygoing date. Customers may choose from a range of five different appetizers and seven different entrées.
The most popular appetizer on the menu is the Grilled Chicken Wonton Tacos. The tacos can be coupled with the most popular entrée, the Bourbon Street Chicken and Shrimp platter, for a deliciously satisfying meal. The dessert menu also has a variety of options including chocolate cakes, sundaes, brownies, and cheesecakes.
Applebee's Neighborhood Grill and Bar is located at 6798 Reisterstown Road in Baltimore. Operating hours are 11 a.m. to midnight, Sunday through Friday and Saturday 11 a.m. to 1 a.m.