The Mustangs' women's lacrosse team dropped their home opener on Feb. 25 to sixth-ranked Gettysburg by a score of 16-6. The Bullets pulled away early with seven unanswered goals in the first half. Throughout the game, the Mustangs were outshot 28-15, which included a 17-6 first half dominated by Gettysburg.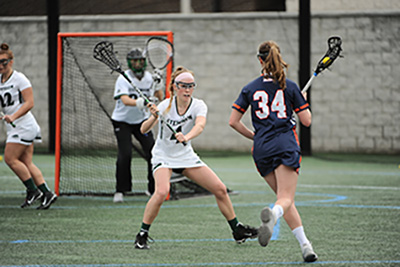 Coach Kathy Railey was able to find some positives in her team's performance despite being controlled in many aspects of the game.
"We had moments of really truly great defense. We had moments of this as they are a team that just dominates on draw control and we were nearly 50/50 with them," said Railey, as the Bullets only controlled 13 out of 23 draws.
Railey also noted that there is also much confidence in the young talent on the roster. She said in the first three games, even though they make their mistakes, the freshmen have been hardworking and exciting to watch. The Mustangs have been starting five freshmen. Railey says their future is exciting.
One freshman in particular is the Mustangs' starting goalie, Mack Ferguson, who racked up nine saves against the Bullets.
"Mack Ferguson in the cage has been amazing. She plays like a senior, but I want to see Mack practice like a senior, and then I think she will be able to sustain her great play for 60 minutes," said Railey. Through three games, Ferguson has a 42.3 save percentage and 30 saves.
On Feb. 22, in Westminster, the Mustangs took on McDaniel College. Seniors Olivia Monteiro and Brady Heher combined for 12 points in the 16-9 win. The Mustangs had a slight edge on shots, and Ferguson had 13 saves.
As the Mustangs look ahead to their next game against Montclair State (NJ), they will be working on their style of play while also looking for more playmakers on offense to take some of the pressure off Heher and Monteiro. The two have combined for 16 goals and 8 assists, with Monteiro tied in draw control wins with nine.
Railey said they want to continue to improve this year's offensive style with a lot of shots, hustle, and aggressive and confident play, and not revert to last year's style.
Even with only three games under their belt, the Mustangs are looking to win out against the mid-tier teams and conference play.  Stevenson has had success playing Montclair State in the past, but the key to this game will be if the Mustangs' defense can sustain a full 60 minutes of play.
The Mustangs will play Saturday, March 4 at 1 p.m. at Mustang Stadium.