WSR helping students develop skills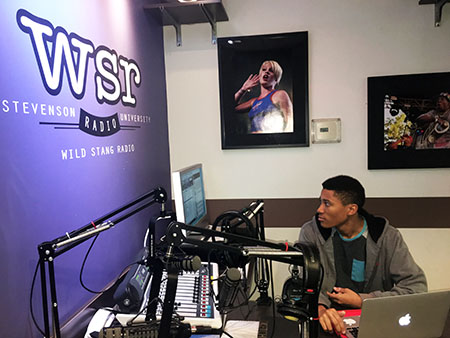 Wild Stang Radio (WSR) is the designated Stevenson University radio station. Run by students and funded by the university, it presents an opportunity for those either looking to get into radio production, or simply express themselves through their own personal music taste in the luxury of a state-of-the-art studio.
Kim Hahr, station manager and senior at Stevenson University, loves working for the station because music, she says, is her passion. While also working at IHeartMedia, she still appreciates her job for the school station because it helps create an entry-level position into the world of music for students, all the while getting paid for what they love to do.
Nearly any student can apply to work for WSR, but those students who hope to get paid must be eligible for work-study. Fortunately, those not eligible for work-study are accepted as volunteers, and volunteering at the station can be a resume-building tool.
"The pride of our station is that students play what they want to hear, because it's likely someone else wants to hear it too! The only real limit is no cursing or vulgar topics that could be considered highly offensive. Other then that there's a lot of freedom to play whatever you want," said Hahr.
The station is best known for broadcasting in the Rockland dining facility, but can also be accessed online at wsr.airtime.pro. This site presents the opportunity for students to listen to the station any time they please, encouraging prospective DJ's to develop a platform and reputation for themselves across campus.
"Our station is different than other radio stations I have seen because it is so centered around our school's population. We are a digital station unlike some others, so we are focusing on our students not the surrounding area, like we would have to if it were on a transmitter," said Hahr. She explained that they can run promotions for campus events and let student listeners know what is happening on campus.
Any student can be a part of the team, said Hahr, not just those who want a career in the radio industry. There are science majors, criminal justice majors, education majors and more, she added, allowing for a wide variety of DJs with a range of content and music that everyone can enjoy.
WSR is a student-focused, student-run station dedicated to providing what Stevenson students want to hear. Tune in to wsr.airtime.pro, or swing by Rockland dining hall to hear more.
Leave a Comment
Donate to Stevenson Villager
Your donation will support the student journalists of Stevenson University. Your contribution will allow us to purchase equipment and cover our annual website hosting costs.