Stevenson University's fourth annual Mission in May trip will commence on May 21, 2017, and will end on May 27.  The trip is an alternative-break service opportunity for students and faculty.
This year, 20 students along with five staff members will travel to Monmouth County, New Jersey, in response to Superstorm Sandy. Students will rebuild houses so that home owners can move back onto their properties.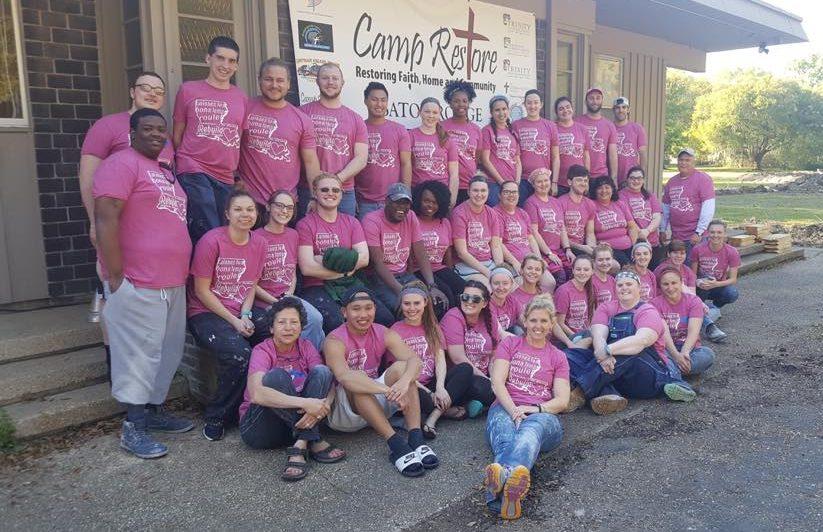 Two leaders of this trip will be Jake Quimby, communication specialist, and Courtney Burkett, help desk administrator at the Office of Information Technology. Both Quimby and Burkett are 2012 Stevenson alumni and have taken part in alternative break trips during their time as students.
The participants will leave Stevenson early in the morning on Sunday, May 21, and will arrive in the afternoon. Work will begin within an hour of arrival. Volunteers will be provided gear and a location for work by the St. Bernard Project, a disaster recovery organization founded in response to Hurricane Katrina. Though the St. Bernard Project is the coordinator of relief efforts in the area, the Mustangs' trip is organized and funded solely by staff and students who have previous service experience.
Local churches and other religious organizations will provide housing for volunteers. Work will begin every morning at 8:30 a.m. and end at 4 p.m. A 45-minute lunch break usually consists of peanut butter and jelly sandwiches the students made earlier. Volunteers will return to camp to wash off the dirt, and everyone helps to make dinner and clean up.
Sometimes, volunteers will be joined for dinner by site supervisors or families whose houses they are rebuiding. On other occasions, home owners may host dinners for the Stevenson group. After dinner, students can relax with their peers unless there is an activity planned, such as visiting the community.  Quimby recalled that on a trip to New Jersey three years ago, students had the opportunity to visit Asbury Park for three hours for dinner and exploration.
Burkett said that "after you come out (of this trip), you have a new family. You spent a week living, breathing, working and dancing in the same space as them." Quimby added that there would be plenty of dancing, eating and selfies involved.
The purpose of these trips is to teach students about issues around the country. Students will learn how to prepare and recover from natural and man-made disasters and will also receive on-the-job training with power tools. Related work will include demolition, installing insulation and dry walls and laying floors.
The founders of the Mission: I'm Home program are Morgan Somerville, director of student engagement;  Art Fifer, assistant professor of information systems; and Romas A. Laskauskas, assistant professor of business administration. The three went on the original 2009 trip to New Orleans. It was so well received that the university is now offering service trips in fall, January, spring and May. Quimby, who attended this trip, described it as one of the most magical weeks of his life.
For students who wish to take part, Burkett explained that the only requirements are "a fun personality and willingness to help out." The cost of the trip is $300, but there are payment plans and fundraising options to help students who are interested. All that is needed to hold a student's spot is a $50 deposit. Those who are interested can contact Tina Gigioli in the Wellness Center, Somerville, Quimby or Burkett.