After a three-week break in the season, Stevenson University's men's volleyball team came back to the court with a winning mentality.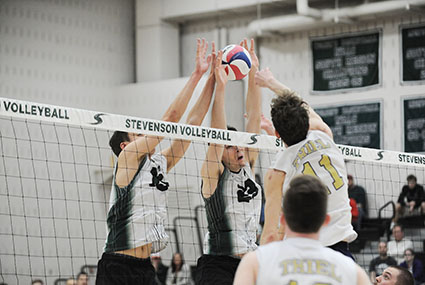 The team successfully added three wins to their record after playing three matches against Continental Volleyball Conference (CVC) teams Cairn, Alvernia, and Rutgers-Newark on March 24 and 25. With two of the three final scores 3-0, and the following match ending at 3-1, the Mustangs increased their overall record to 16-8, maintaining their status in the conference.
Head coach Aldis Berzins said, "We are in the position to accomplish our goal of winning the league, as long as we remain in the top four out of the eight teams [in the CVC]."
Senior outside hitter Nick Gross said that as the season is coming to a close, the team feels confident because they have put in hard work to prepare for the last few conference matches. Gross hopes the team can "stick together and focus on one point at a time."
Players and coaches are aware that some of the most challenging matches are ahead. The Mustangs will play five conference opponents in the final three weeks of their season.
Previous opponents include Marymount, Juniata, Thiel, Alvernia and Eastern Mennonite. The Mustangs lost to Marymount and Eastern Mennonite 3-2, but they beat Juniata 3-1, Thiel 3-0, and Alvernia 3-1 in away matches in March.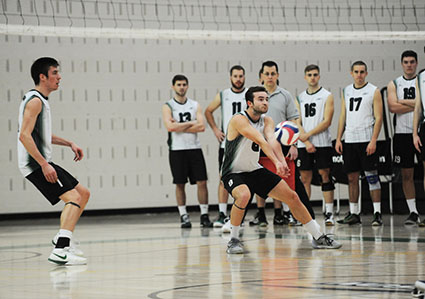 The Mustangs hosted Marymount, one of the toughest teams in the CVC, on March 29 at 7 p.m, ending the match with a .193 hitting percentage against the Saints who completed the match with a hitting percentage of .304. The Saints took the lead and ultimately came out on top 3-1. The Mustangs also fell short against Juniata in straight sets on March 31.
However, in the match against Thiel on April 1, the Mustangs hit a season-high percentage of .532 in straight sets and improved their record to 17-10. Sophomore Landon Shorts led the Mustangs with 18 kills, followed by sophomore Jason Gardner who finished with 12.
The Mustangs have three home games left in the regular season. The first match is against Arcadia on Thursday, April 6, at 7 p.m. in the Owings Mills gymnasium. For more information on the team, visit GoMustangSports.