After a strong regular season finish and a valiant run at the Middle Atlantic Conference (MAC) championship, the Stevenson men's soccer team looks to cap off another successful season with an Eastern College Athletic Conference (ECAC) championship – something the men's team hasn't accomplished since 2010.
As one of 16 teams selected to compete in the 2019 ECAC Division III men's soccer championship, Stevenson was awarded the top seed of the entire tournament. According to head coach Graeme Millar, the qualifications to be considered for the ECAC championship included strength of schedule and a team record over .500.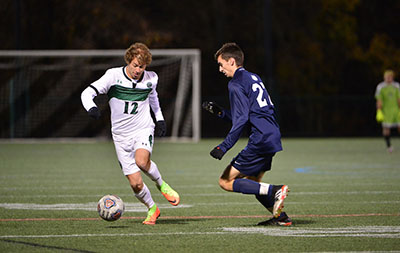 Prior to postseason play, the Mustangs were in a must-win situation in their final game of the regular season. In a three-way tie for fourth place in the MAC and a playoff berth at stake, the Mustangs squeaked out a 1-0 win over Arcadia University, thanks to an 83rd -minute goal by sophomore Owen Mostoller, according to gomustangsports.com.
The win solidified the team's spot in the MAC Commonwealth playoffs as the fourth seed; the Mustangs finished 4-3-1 in the MAC, an identical record to the previous year. Millar said the team's goal at the beginning of the year was to place third in conference play, but nonetheless, he was happy with their ability to finish the season strong.
Another year-long goal for the Mustangs was to beat Lebanon Valley College at home, a team that was predicted to finish third in the MAC before the season started, according to Millar. The Mustangs would get their chance in the opening round of the MAC playoffs, and they made it count, winning decisively 3-0.
Following a semifinal loss to nationally ranked Messiah College, the Mustangs focused their attention on an ECAC championship.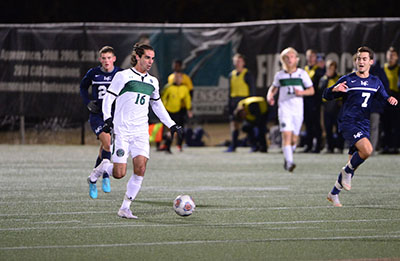 While the Mustangs earned their spot as the top seed in the tournament – a seed typically accompanied with home field advantage – the Mustangs had to travel to Edwardsville, Pa., for the first two rounds of tournament play. Facing a little adversity, the Mustangs banded together, winning 3-2 over Westminster College (Pa.) and 2-0 against Wilkes University in back-to-back games.
Millar and his team have their sights set on finishing the season with a championship, but the coach believes there is more to this tournament than winning. He said that the postseason tournament also offers playoff experience for the future and a chance to develop players for the following season as well.
Junior defender Jevan Leyh reflected on the season: "We came together as a team this year, almost family-like. Now we just have to play 90 minutes of soccer for each other and a championship will be that much closer in reach."
Next on the docket, the Mustangs come home to face Kean University in the ECAC semifinals on Saturday, Nov. 23 at 5 p.m. A win over the Cougars would place the Mustangs in the ECAC championship game on Sunday, Nov. 24.