Nutrition is indispensable to a healthy lifestyle, but is something that students tend to forget to keep up with.
Nurse practitioner Julie Sanz, assistant director of the Stevenson University Wellness Center, said, "The best place to start to keep up with your nutrition is to find out what your nutrition is and evaluate it." She suggested eating normally for a week or so, and using fitness apps like My Fitness Pal or Lose It to track current eating habits.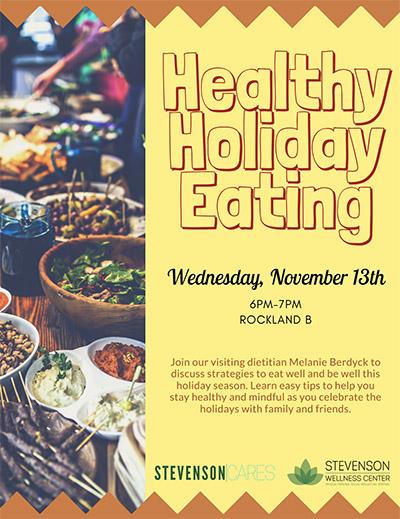 According to Medical News Today, "Nutrition is the study of nutrients in food, how the body uses nutrients, and the relationship between diet, health, and disease." Whatever students put in their bodies can affect them. There are some foods like salmon and fish oils, foods with omega fatty acids, that can help lessen depression symptoms, as well as help the heart and have an affect on certain mental conditions. Stevenson University offers a variety of healthier food choices in the Rockland Marketplace through Sodexo food services such as a salad bar, a grill, a sandwich station, as well as fresh fruit and a yogurt station.
On the other hand, there are some foods that people should avoid, like fried foods or junk foods. While a daily meal plan of chicken tenders can seem appetizing, one and a half pieces is about 260 calories, and are high in saturated fats as well. Think that a cheeseburger would be a better choice? A single cheeseburger on a bun is about 320 calories — and that is just one portion of one meal. Depending on one's body type, the average amount of calories to consume a day is between 1200 and 1800 calories.
Thus, for some college students, it can be hard to eat healthy because whatever the dining hall offers, that is what students will eat. According to Health.com, it is good to try to eat "during a 12-hour window each day—for example, from 7 a.m. to 7 p.m." The same source notes that the most important meal of the day is breakfast, which should occur within 30 minutes to an hour of waking up.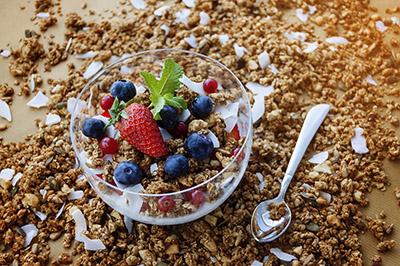 It is also good to eat a healthy, nutritious lunch and snacks like granola bars, protein bars, or nuts in between classes. However, it is important to be aware of all the hidden sugars in these snacks as some granola bars can contain up to 15 grams of sugar per serving. These bars may be convenient, portable, and inexpensive, but the added sugars and carbohydrates might sabotage a healthy eating plan.
Living a healthy lifestyle certainly includes keeping up with the calorie count. Although, those who are a high performing athlete, should reach around 2000 calories every day, as opposed to a typical 1500-calorie regimen.
Additionally, because people manage to gain about seven pounds each holiday season, the Wellness Center will hold an event in Rockland B on Wednesday, Nov. 13, called "Healthy Holiday Eating." This event will offer advice on the many ways to keep up nutrition in balance and maintain a healthy diet throughout the year.
For more information on nutrition, visit the Wellness Center in Caves on the Owings Mills campus or contact Sanz through campus email. Sodexo's dietitian, Whitney Butler MS, RDN, LDN, CNSC, is also available for answers to any health and wellness questions.