One of Stevenson's sororities, Alpha Kappa Alpha (AKA), will hold an open discussion on April 4 in the Ratcliffe Center at 7:08 p.m. The event, Girl Kode vs. Guy Kode, is open to all students.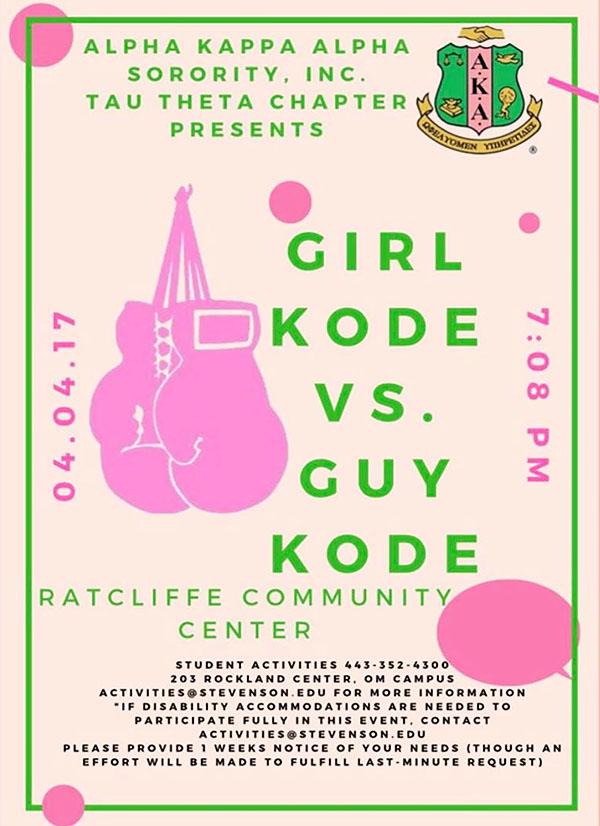 AKA, the first African-American Greek sorority at Stevenson, focuses on service in sisterhood. This upcoming event represents their slogan: Service to All Mankind, as it encourages the whole community of students to be educated on an important topic.
The president of AKA, Ryan Collier, hopes that Girl Kode vs. Guy Kode will bring a healthier understanding of interpersonal relationships, intimate and platonic. This open forum will combat stigmas about the misinterpretations of relationships and will give students the chance to share personal experiences.
Sophomore Justin Owens believes that this event can help him gain perspectives from the other gender while also providing insight for his own.
"There's definitely a stigma with relationships nowadays. Social media diminishes a relationship and keeps it from being honest," said Owens. He added, "It's definitely harder to trust someone these days. [It is] so much easier to lie."
Collier added that this event, like all of their events, will be held at the eighth minute of the hour. This is because Alpha Kappa Alpha was founded in 1908. That is just one of the many ways Stevenson's Tau Theta Chapter of AKA maintains traditions.
Girl Kode vs. Guy Kode has been held every year since AKA was brought to Stevenson on April 3, 2011.
Collier explains that the process for recruitment is very strict, as they have only 11 members. Many of their services happen off campus, so students might not see AKA in action often. They serve the whole Baltimore county community, as well as the Stevenson community, according to Collier.
Future plans for AKA include increasing their publicity with more events on campus. Collier said they are trying to get an idea for what students would like to see, while also making their events educational and meeting their goals. Those goals include environmental awareness, health promotion and family strength.
Another event, "De-stress with the AKAs," will be held on April 24 to help students relax before finals and maintain their mental well being.