Local and state elections offer change
As the nation still recovers from the exhausting 2016 Presidential Election, many citizens are unaware of the crucial local and state elections that will be taking place in the next few days.
Tuesday, Nov. 7, otherwise known as an off-year election day, will feature gubernatorial elections in Virginia and New Jersey, as well as state legislative elections in both houses of the New Jersey Legislature and in the lower house of the Virginia Legislature. Numerous citizen initiatives, mayoral races, and a variety of other local elections will also occur including elections to fill two U.S House of Representatives seat vacancies and one U.S. Senate seat.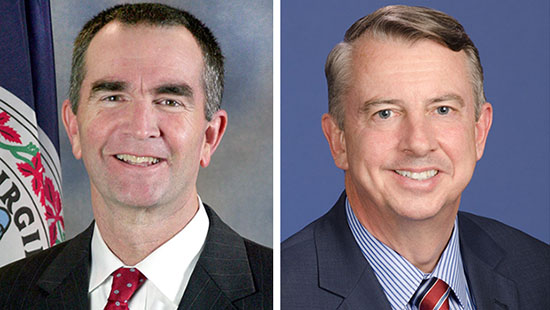 The gubernatorial races, particularly in Virginia, serve as a barometer on the national political mood 10 months into the Trump administration.
In Virginia, Republican Ed Gillespie, former chair of the Republican National Committee and adviser to former President George W. Bush, is challenging Democrat Ralph Northam, the state's current lieutenant governor.
Northam says he is fighting for issues that Virginians care about: safe communities free from the threat of gun violence, good-paying jobs, a world-class education, access to affordable health care, and clean air and water. Gillespie said that improving the state's economy is his top priority.
According to the Washington Post, the Democrats should win Virginia because the sitting governor is a Democrat, and Hillary Clinton won the state last November. While blue reportedly appears to outweigh red, polling shows the two candidates are running neck and neck.
In New Jersey, the stakes are high as the state prepares to elect a new governor for the first time in eight years. Democrat Phil Murphy and Republican Kim Guadagno are competing to replace Republican Gov. Chris Christie, the only governor to serve two full terms since Tom Kean in the 1980s.
Phil Murphy, a former U.S. ambassador to Germany, appears to be the unexpected front-runner in the race partially because of Christie's approval rating, which hit a historical 15 percent low in June. Murphy is running on a promise to better New Jersey infrastructure, make housing in the state more affordable, tackle the opioid epidemic, and reduce gun violence.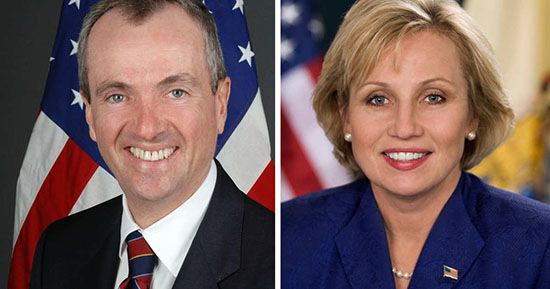 Christie's poor approval ratings do not bode well for Guadagno, who served as Christie's lieutenant governor during both terms. Despite her attempts to distance herself from Christie, Guadagno's ties to the current governor are hurting her numbers. According to a June 2017 Quinnipiac University poll, 54 percent of New Jersey voters have a negative opinion of her because of her role as lieutenant governor in connection to the Christie administration.
Guadagno's platform consists of promising an end to the opioid epidemic, fixing New Jersey transportation, growing jobs in the state, fixing pension and health benefits, making the state more military and veteran-friendly, and cutting property taxes.
THE STEVENSON CONNECTION

According to the Office of Institutional Research, Stevenson University has 235 enrolled students from New Jersey and 74 from Virginia for fall 2017. While those numbers are small compared to the 3,020 enrolled students from the state of Maryland, students from Virginia and New Jersey make up 7 percent of the institution's out-of-state students. The out-of-state student population make up 22 percent of all enrolled students. Therefore, the results of the gubernatorial elections in Virginia and New Jersey could directly impact a cohort of out-of-state enrolled students.
Junior Daniel Habron, from King George County, Va., said that many do not recognize the importance of off-year elections or show much interest.
"It is such an important election because we are a battleground state. We dictate the presidential election because of what we represent," he said. "Because the campaigning comes immediately after the presidential election, most people don't even know it's there."
Habron plans to vote by absentee ballot on Tuesday. He believes that exercising his right to vote will produce change for a state that he still calls home. "There is a lot of change that you can do, any way you can," he said. "Going back to Virginia and voting and showing my views there will slowly translate [to the national level]." According to Habron, voting at the local and state level are the best ways for him to ensure that his opinions are known.
Sophomore Anthony Plaag, from New Egypt, N.J., shares a similar view and will be returning to New Jersey to vote on Election Day. "A lot of folks complain about Trump and the administration," said Plaag. "That's great that you have those concerns, but the only way you can affect true change is by voting," said Plaag. "Vote hard, vote often, and vote informed."
Plaag believes voting for city council, mayors, state senators, U.S. Senators, and governors are crucial because those representatives most directly impact an individual's daily life. "Now more than ever [voting] is important. I think a lot of folks are realizing that after the election of Donald Trump," said Plaag.
Plaag believes that many citizens are understanding that things need to change, and for some, the 2017 and 2018 election cycles are opportunities for redemption or improvement.
Students who are U.S. citizens, 18 years old on or before Election Day, and meet their state's residency requirements are eligible to vote.  Once meeting the eligibility requirements, students should register to vote in their state by the voter registration deadline. Registration is available online in 31 states or in person at the department of motor vehicles, armed services recruitment centers, or with state or local election offices.
Leave a Comment
Donate to Stevenson Villager
Your donation will support the student journalists of Stevenson University. Your contribution will allow us to purchase equipment and cover our annual website hosting costs.