Stevenson University alumni, Jessica Dixon Bieber, has found success in a career in athletics after graduation. Bieber attended Stevenson from 2005-2009, majoring in business communication while competing in NCAA Division III athletics.
Bieber was a member of the women's soccer team during her freshman year and competed on the women's lacrosse team all four years. Bieber was the president of the Student Athlete Advisory Committee, a member of Sigma Tau Delta, and the treasurer of Sigma Alpha Pi, according to gomustangsports.com.
After graduation, Bieber began her transition into the professional world. "My first position outside of college actually provided a smooth transition. Although I was not driven to work in the world of sports, I found a job at IronBirds Stadium working as an events coordinator," said Bieber.
"This position was very casual, and I worked with several young professionals; therefore, the atmosphere was a bit like college. As I transitioned out of that role and into another, plus with my internship experience while at Stevenson, I was accustomed to several different working environments," she added.
After Bieber finished her time at the IronBirds, she moved on to the role of communications manager at JigSaw Marketing Solutions. Her next stop was as the director of public relations and strategic communication at the Fallston Group.
The social media communicator currently works at STX, LLC, in Baltimore. She began in March of 2015 as the brand manager for women's lacrosse, incorporating her experience as an athlete and her background in communication studies. She recently transitioned roles to become the commerce manager for the company.
Bieber explained what she enjoys most about her job at STX: "The challenge of learning a new industry. As commerce manager, I am tasked with managing our e-commerce ecosystem, a new industry for many professionals and one that presents a lot of growth for companies."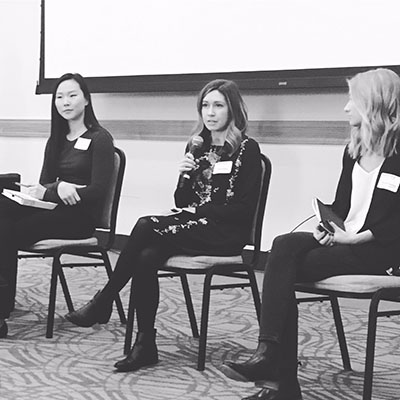 Although she works in sports now, athletics had a negligible impact on her career. "To be honest, athletics did not influence my career path. It was my professors, internships and business communication peers who influenced my desire to seek a position in marketing. While I always loved athletics, I was not driven to work in the sporting goods industry. I was more interested in finding a career that allowed me to work hard while also staying involved in athletics either by coaching or playing," said Bieber.
Stevenson helped to prepare her for her job today, said Bieber. "I had a well-rounded and professional experience at Stevenson which I believe helped set me up for success today," she explained.
For students who are on the verge of graduating and seeking a career in sports, Bieber offered advice: "The sporting goods industry is competitive. Be strong, determined and driven in order to find success. Work to stand out from the crowd and seek new ways to enhance your value."
Bieber continues her career path in the sporting industry, constantly looking for ways to improve upon the foundation Stevenson University athletics and academics provided. She can be found on LinkedIn, which provides more details surrounding her various positions as well as her current role at STX, LLC.