Commentary: Fake News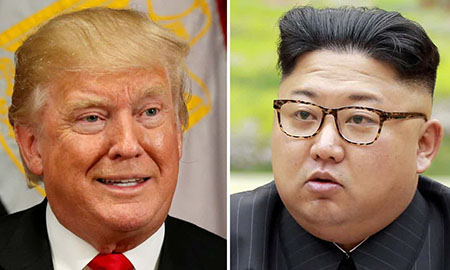 On November 15, 2017, as a student sat comfortably sipping his morning soda and eating a breakfast sandwich from the MAC cafeteria, he started his early morning routine of checking Facebook. Like most mornings, it was filled with a mix of rants from friends/family and a selection of cute animal videos until he stumbled across an article with this headline:
"North Korea 'sentences Trump to death' for insulting Kim Jong-un"
Given the current tensions between the U.S. and North Korea, it is not out of the realm of possibility that North Korea would want Trump dead. It nevertheless begs the question: How valid is this headline?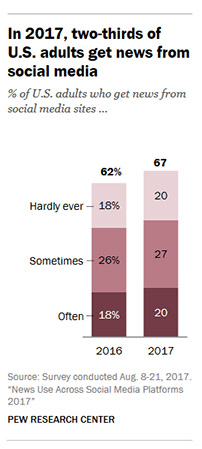 Exactly two sentences in, the article revealed that it had been written and edited by the ruling class's propaganda newspaper, Rodong Sinmun. It is also implied that North Korea's call for Trump's death was more of a rant rather than a statement of fact. This 30-second detour uncovered a key detail to this article. However, so few Americans take the time to search for the truth.
60 percent of Twitter users share links on Twitter without ever even opening them, and out of those links only 2 percent are considered 'primary' sources. That means 98 percent of all shared links on Twitter are considered secondary links according to a HALs' Social Clicks: What and Who Gets Read on Twitter? report in 2016.
What percentage of Americans get their news from social media?
"As of August 2017, two-thirds (67%) of Americans report that they get at least some of their news on social media – with two-in-ten doing so often," stated a survey from the Pew Research Center. The survey adds that this number has increased by 5 percent from 2016. This means that more and more adults are getting their news directly from social media.
What is the current U.S. media landscape?
"The fragmented U.S. media landscape is dominated by private, for-profit enterprises," stated Reuters Institute's Digital News Report 2017. The report consists of a brief, one-page overview of media in 36 different countries, including, but not limited to, the United Kingdom, Germany, Japan, Mexico, and the United States. The report goes on to name Yahoo! News, Huffington Post, CNN.com, Fox News online, and the New York Times online as the top 5 influencers in the American online theater.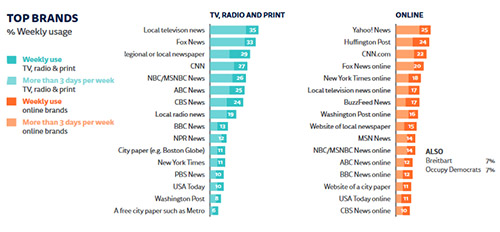 American adults get their news from social media, and many never read beyond the headline, often from a for-profit aggregate. So how do students know if the news they are getting is sufficiently unbiased or even true?
A PROFESSOR'S PERSPECTIVE
Dr. Heather Harris, a professor at Stevenson University schooled in media literacy, has the answer to that.
"What passes for news is often just someone's opinion from a blog," said Harris, adding that when reading a news article, there are a few basic criteria to apply.
She starts with asking if the journalist getting a holistic view of the facts. Does the article address both sides of the story or does it just discuss one view point?
Harris added that students should check the source's citations. Are the sources that are being cited biased? If so, then the content will be biased. It is also common for sources to be misquoted or misrepresented, so it is best to practice reading the original article to rule out any misleading information.
Harris also noted that readers should check to see if other news organization are reporting on the same topic. If they are, is the information unique?
Harris finished off with a warning: it is the responsibility of readers to read beyond what the article is telling them and to constantly question the facts. It is also up to readers to understand that they, too, have an internal bias and need an open mind to the facts. This open mind will allow them to replace prior incorrect knowledge with more up-to-date truth.
With this newfound knowledge, what does that original article look like?
First, does the article have a holistic view of the facts? The article does discuss both the North Korean views and the American views on Trump's actions. However, the article  discusses the North Korean view only from the ruling party's perspective, more specifically the Rodong Sinmun publication. The article does not address the view of the opposition to Kim Jong-un.
Second, is the source reliable? The article does not cite the original source directly, making it harder to track down the facts. This difficulty is further hindered by original text that is not in English, making it difficult to verify the facts.
Finally, are other news outlets running this story? Several different news organizations have picked up the story including Foxnews.com and Sky News. The news outlets discuss the same publication and general news outline. These outlets still give little reassurance of the validity of the originally cited document.
In a day and age when social media is ripe with Russian hacks and political misleadings, it is easy to become suckered into believing biased or false information. But in less time then it takes to finish a bagel sandwich and a soda, the truth can be uncovered. (Photo of Donald J. Trump and Kim Jong-un by Kevin Lamarque/Reuters)
Donate to Stevenson Villager
Your donation will support the student journalists of Stevenson University. Your contribution will allow us to purchase equipment and cover our annual website hosting costs.