Pop stars release holiday albums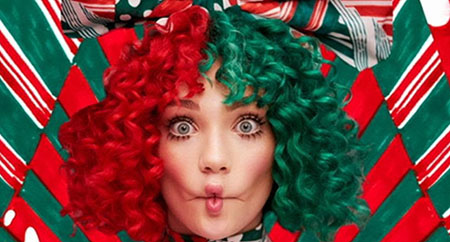 For the first time, Gwen Stefani released a Christmas album titled "You Make It Feel Like Christmas" on Oct. 6 with Interscope Records.
The album features 12 songs mix of classic Christmas jams including "Silent Night" and "Jingle Bells," as well as Christmas originals like "Christmas Eve" and the title song, "You Make It Feel Like Christmas."
The title track is a duet between Stefani and her boyfriend, country musician Blake Shelton, who also co-wrote the lyrics. The title song is catchy and brings the singers' two different styles together.
Besides the title track, the album overall is nothing edgy or new. Nothing stood out among the classic Christmas songs, but I recommend adding "You Make It Feel Like Christmas" to your holiday playlist. Stefani could have remixed the holiday classics to make these old-time tunes feel brand new this holiday season, such as Ariana Grande's version of "Last Christmas" by George Michael.
---
Australian Singer Sia Furler dropped a peculiar holiday album that fits the singer's uniqueness.
The album titled "Everyday is Christmas"  includes 10 original-songs written by Furler and produced by Greg Kursten. The cover art depicts dancer Maddie Ziegler, who has starred in a variety of Furler's music videos. Ziegler is wearing Furler's signature two-toned wig: half red, half green with a huge ribbon on top, showing-off the holiday spirit.
The song selection has a range of themes from jolly tones like "Sunshine" and "Puppies Are Forever," which have fast beats and silly lyrics, to a more melancholy tone in "Underneath the Mistletoe" and "Snow-Man."
The only song that currently has a music video is "Santa's coming for Us". The music video is set in the 1950's and stars famous actors: J.B. Smoove, Dax Shepard, Kristen Bell, Henry Winkler, Susan Lucci, Sophia Lillis, Wyatt Oleff & Caleb McLaughlin.
All songs on the album were original, bringing a new and rather different feeling to Christmas. Fans enjoyed this fresh take on the holidays. "Finally got to hear some new good and unique Christmas Music," said a Youtube commenter named Sia Furler Admirer. The wide variety of song selections keeps you entertained and not knowing what is coming next.
However, during the holidays, people want to spend time with their loved ones and relate to each other with shared experiences. Families reminisce and enjoy the fact that every year they all listen to the same songs with the same lyrics. It would have been to Furler's advantage to include some classic songs to not only reach out to youth, but parents and grandparents as well. It will be difficult for people to become adjusted to these new songs, rather than singing to songs that have been out for years such as "All I Want for Christmas is You" by Mariah Carey.
If Furler included some old time Christmas classics along with her catchy new originals, the album would have been perfect for the holidays. Adding a new mix to "oldies but goodies" is the perfect combination for the holiday season.
Donate to Stevenson Villager
Your donation will support the student journalists of Stevenson University. Your contribution will allow us to purchase equipment and cover our annual website hosting costs.