With the holidays quickly approaching and cold weather around the corner, many want to spend their days with loved ones and a cup of hot chocolate, embracing the holiday spirit. The lights on 34th street in Hampden, Baltimore, are almost impossible not to notice and are a must-see local attraction for Baltimoreans or anyone who simply love the holidays. 34th street is located in the 700 block of West 34th street and the adjoining streets in Baltimore, Maryland.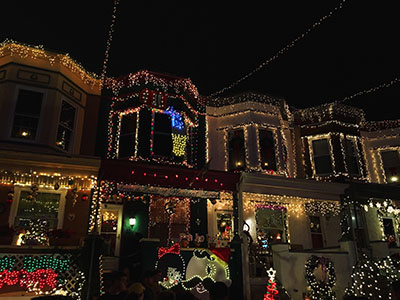 Residents of this eclectic neighborhood began putting up decorations on Nov. 25 and will leave them in place until Jan. 1. Not only can visitors marvel at the festive lights, but they can also watch the ball drop on Dec. 31 during New Year's Eve.
It all began with the founder of "Miracle on 34th Street," Bob Hosler, who lived in northeast Baltimore as a teenager. According to a website managed by residents of 34th Street, titled Christmas Street, Hosler began by putting Christmas lights on his tree outside, and the tradition has grown for a little over 70 years. His efforts spread throughout the neighborhood as well.
Hosler's wife, Darlene, was his neighbor as a child, and her family also decided to continue this tradition by placing lights all around their house. Now, the married couple of over 25 years continue this tradition as a
family and say they "wouldn't trade it for anything else." The lights on 34th Street have been recognized by Nightline, the Travel Channel, the Maryland Lottery, and the Home and Garden center.
These row homes covered in Christmas lights each have a flavor of their own. With inflatable snow globes, Santa figurines, and holiday lights covering homes along 34th Street, Hampden is the ideal spot to bring the family or fellow Stevenson University friends to sight-see for free. Not only does 34th street have lights, but the neighborhood also has Baltimore trademarks as well. Lit up figurines include infamous Baltimore icons such as Natty Boh, Utz, Ravens, Orioles, and a glowing red Maryland crab.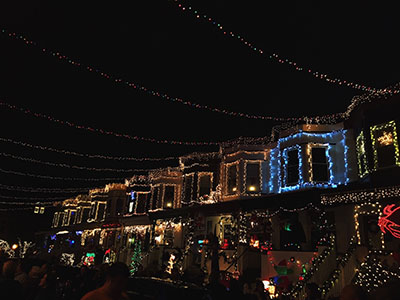 The lights on 34th Street are free of charge and though parking is limited, anybody can visit during the holiday season if they search hard enough for on-street parking. Some of the streets are blocked off for traffic.
Some houses are also decorated inside, and the homeowners allow visitors to pay a small fee to enter. To get the best experience, first find a parking spot, bundle up and then walk past the bright views of row homes covered from head to toe in festive lights. Look for the lights of the Mardi Gras house, or the famous pink flamingos which are always fan favorites.
On Dec. 15, volunteers from a pet service, Kitties & Pitties, will be handing out free hot chocolate and cookies as well. The Miracle on 34th Street lights will be taken down on Jan. 1, so make sure to get the full experience before the holiday season ends.