Women's basketball finding success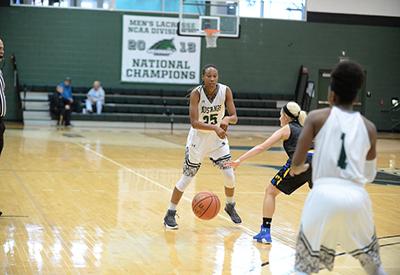 Stevenson University's women's basketball has started off the season with hopes of being a top finisher in the conference.
As of Dec. 7, the team is 6-3. The Mustangs are on a three-game winning streak as they get ready to travel to Arcadia University for a Dec. 9 game.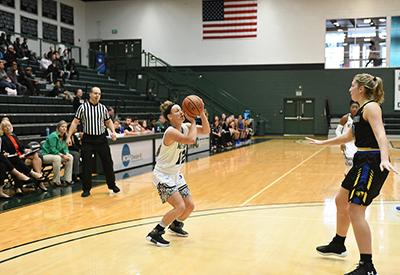 The team lost their first conference game on Nov. 29 against Albright College, 75-53. Albright, who is second in the conference, shot 47 percent overall compared to the Mustangs' 26.8 percent. Stevenson picked up their first conference win on Dec. 2 against Widener University. The Mustangs were led by freshman Morgan Jacobs' 18 points and senior Imani Sanders' 14 points. Senior Kristine Tennyson added 10 points and seven rebounds.
Against Lebanon Valley College on Dec. 6, the Mustangs came out firing in the fourth quarter on their way to a 68-51 victory.
Coach Jackie Boswell believes the team is performing as planned.
"We had a tough out-of-conference schedule and we were able to come out of it 3 and 2. I think that did its job in getting us ready," she said. The team lost three valuable scorers and rebounders from last year, so they heavily recruited to replace the athletes lost with a big freshman class of 11 athletes.
There are still standouts on the team who hold the group together as they move forward. These include returning junior guard Jonyae Curry, who provides extra athleticism to the team, and sophomore Hannah Crist, the leading scorer of the team right now.
It's been a solid return for senior point guard Imani Sanders, and senior Kristine Tennyson has played a key role in adding more experience to a very young team.
Look for freshman Brandi Hall to gain more playing time as she hit the game-winning shot against Washington and Lee University, and Morgan Jacobs picked up 18 points in the win against Widener University.
The team has lost three games so far but Boswell believes they need to build from their losses.
"I think our future is definitely bright if we continue to work we can be in the top part of the conference this year," she said.
The Mustangs' 53-52 win against out-of-conference Washington and Lee University on Dec. 3 gave the them confidence to face Arcadia University on Dec. 9.
Before the holiday break, the Mustangs have two road games scheduled. They will face Goucher College on Dec. 16 at 1 p.m., and Marymount University on Dec. 18 at 5 p.m. The Mustangs are back in action at home on Jan. 3 at 8 p.m. v. Messiah College.
The team is focused on strengthening their position in the conference right now. Boswell believes the Mustangs are prepared for the next couple of months as they look forward to their championship games in February.
Donate to Stevenson Villager
Your donation will support the student journalists of Stevenson University. Your contribution will allow us to purchase equipment and cover our annual website hosting costs.