Emotions were high on a Wednesday night in the Owings Mills gymnasium as the Stevenson men's basketball team beat the Elizabethtown Blue Jays 90-87 in overtime as the season opener for both teams on Nov. 15. The win for the Mustangs was their first winning season opener since the 2014-2015 season.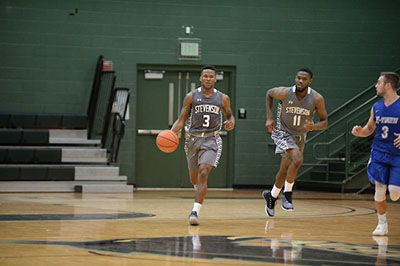 "A player who really came up big for us that night was Danzel [Wright]," said assistant coach Christian Barnhill.  Wright put on an astonishing 30 points that night and gave the Mustangs the upper hand in overtime putting them up 85-78 with 1:56 remaining on the clock. "He had an incredible performance. We hope to see the momentum he had that night continued the rest of the season," Barnhill added.
In the overtime period, Stevenson was up 89-82 with 32 seconds left. Elizabethtown's Matt Thomas then scored a layup and Brandon Barry for the Blue Jays hit a desperation three-pointer to put the score at 89-87 with 9 seconds left.
On the inbound pass, Elizabethtown fouled Jaylin Johnson, who missed the first free throw and made the second. By this time it was too late for the Blue Jays to do anything and the Mustangs escaped with the 90-87 win. "This win set the tone for the rest of the season. I'm curious to see what else lies ahead," Barnhill said.
Korey Hayman Jr., the starting point guard, said, "Our defense still has some areas to improve on, and as a team we have to move on to the next player quicker."
On a positive note, Hayman said, "The main contributor was how our team fought through adversity and stayed together. Our bench really helped the guys on the floor as well." Hayman believes that if the team continues to fight through adversity that will be a contributing factor to the team's success farther down the road.
The team success later down the road with two wins, one against Washington & Jefferson College 80-65, and against Houghton College 78-55. Although they lost to York College 88-80, the Mustangs came back with a major win, beating Penn State Berks 113-83.
The team has played three conference games so far. A tight game versus Albright College ultimately resulted in an 81-77 loss. The battle against Widener University continued into overtime, but ended up with the Mustangs falling 78-75. They earned a nailbiter of a win against Lebanon Valley College with a score of 82-80 on Dec. 6.
The men's basketball team will play another conference game at Arcadia University on Dec. 9 at 3 p.m. Although the team will be traveling, the Mustangs can be followed live on gomustangsports.com.