Action film follows LA heist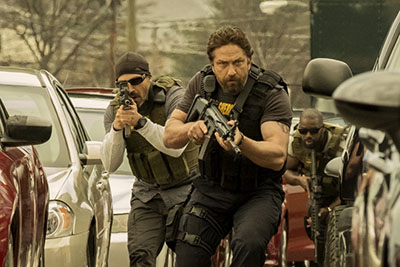 "Den of Thieves" is a new action-packed movie that is definitely worth seeing. Directed by Christian Gudegast, this 2018 thriller stars Gerard Butler, 50 Cent, and O'Shea Jackson Jr., and my favorite villainous actor, Pablo Schreiber.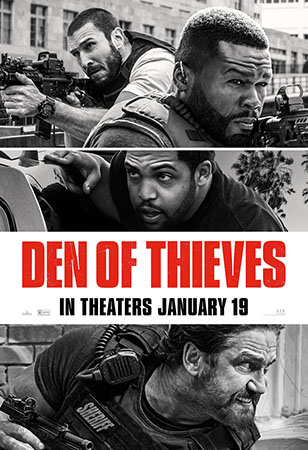 The story takes place in Los Angeles, the bank-robbery capital of the world. Los Angeles Sheriff "Big Nick" O'Brien (Gerard Butler) has trouble getting respect and trust from his fellow police officers, deputies and even from his wife. His attitude and addiction to sex and booze make viewers question if he is the good guy or bad guy. At one point, viewers may even be on the villain's side.
In this case the villains are an organization of the best and brightest thieves in California, who have a plan to rob millions of dollars from the Federal Reserve Bank in downtown LA.
The action-packed film awakens one's senses with overwhelming gun shots and flooding excitement. It will have the viewer on the edge of their movie seat hoping for the good guys to win, but wondering how far the bad guys will go; viewers can easily get attached to the characters in the film.
However, the villains will only shoot at those in uniform. This is due to the loyalty and betrayal that comes with being on a team. The rule is something that those in sports or the military can relate to, even women. Nonetheless, there were only about three significant female parts in the entire film, none of which had the chance to develop.
Critics have written that "Den of Thieves" is a lesser version of a similar film called "Heat" (1995).  According to Reelviews, top critic James Berardinelli calls it "an above-average cops-and-robbers heist film." I suggest watching the movie without taking prior opinions into consideration.
This is director Gudegast's first film, according to IMDb, which has earned $30.35 million so far, meeting his $30 million budget.
Donate to Stevenson Villager
Your donation will support the student journalists of Stevenson University. Your contribution will allow us to purchase equipment and cover our annual website hosting costs.