Plans are under way to add fraternities to the many clubs and organizations at Stevenson University.
When Dr. Kevin J. Manning was still the president of the university, he asked students what they thought about Greek life for men coming to the school, and received a positive response from those polled. Once Manning retired, the idea was then taken up by the new president, Dr. Elliot Hirshman, who has met with the Student Government Association and other governing bodies of the school.
"This [adding fraternities] is a good method for recruitment. On tour, students consistently ask if there are any fraternities here, and that's how this idea started, " said Daniel Schwartz, director of Student Activities.
"We reached out to a number of diverse fraternities and organizations," said Schwartz. "We also reached out to a number of other organizations." So far, 52 groups received an application and 12 have pursued the application thus far.
Phillip Gatling, an assistant director in the Student Activities office, said that all 12 responses have been pretty diverse. Since only two fraternities will be asked to establish a chapter at Stevenson,  possibly one of them will be a black fraternity or a fraternity of a different ethnicity.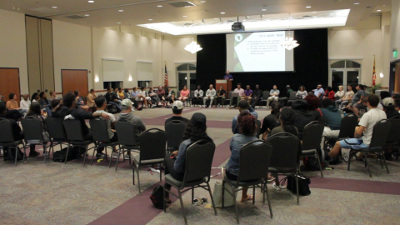 "Other schools use [Greek life] as a tool for recruitment, and if we use it the same way, then a lot of students would be interested in coming to the school. It's pretty effective," said Gatling.
Members of the Greek Life committee include the following:
Jeff Kelly, Dean of Students
Jeremy Munson, AVP and Director of Student Conduct
Natalie Gillard, AVP Multicultural Experience
Dan Schwartz, Director Student Activities
Phillip Gatling, Assistant Director of Student Activities
Robin Lyles, Adjunct Instructor Criminal Justice, Alpha Kappa Alpha advisor
Bonnie McGahee, Assistant Director of Residence Life, Phi Sigma Sigma advisor
Deric Greene, Associate Professor, Business Communication, faculty representative
Bryson Barksdale, Student Government Association, student representative
Currently, the university has two sororities: Phi Sigma Sigma, established on campus in 1992, and Alpha Kappa Alpha, established on campus in 2011.
No timeline has been publicized yet, but according to a presentation by the committee in September, 2017, by the end of March or early April, the Greek Life Committee should be able to make final recommendation of two fraternities to begin colonization/ charting process in fall 2018, based on research, interviews, and student feedback.