On March 4, 2018, the Academy Awards, also known as the Oscars, will celebrate their 90th anniversary.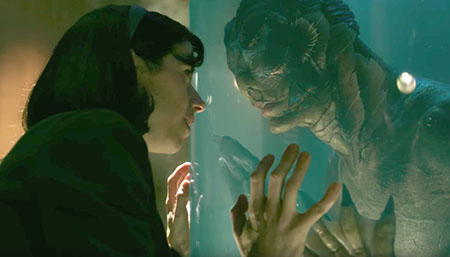 The award show features 24 awards that are bestowed for artistic and technical excellence in the film industry. The Academy of Motion Picture Arts and Sciences (AMPAS) give out the awards, and winners are chosen by the members of The Academy that have a voting membership. The host for this year's show is Jimmy Kimmel, returning once again from last year's hosting.
Junior film and moving image (FMI) major Matt Patti said that he likes watching the Oscars because "it's interesting to see which movies The Academy in Hollywood likes and why." Patti added, "Since I'm a film major, I feel like it's almost a requirement that I watch them." As vice president of the FMI Club at Stevenson, Patti said that the club will host an Oscars watch party for club members; however, those who would like to attend can sign up to be a member of the club by emailing Patti through campus email.
The 24 categories include but are not limited to: Best Picture, Best Director, Best Actor/Actress in a Leading/Supporting Role, Best Cinematography, Best Original Score and Best Visual Effects.
Best Film nominees include "Get Out," "Dunkirk," "Lady Bird," "The Shape of Water," "The Post," "Phantom Thread," "Darkest Hour," "Three Billboards Outside Ebbing, Missouri," and "Call Me By Your Name."
Best Actress nominees include Meryl Streep,  Sally Hawkins, Frances McDormand, Margot Robbie and Saoirse Ronan. For Best Actor, Denzel Washington, Daniel Kaluuya, Daniel Day-Lewis, Gary Oldman and Timothée Chalamet have been nominated.
Best Director nominees include Guillermo del Toro for "The Shape of Water;" Christopher Nolan for "Dunkirk;" Jordan Peele for "Get Out;" Greta Gerwig for "Lady Bird;" and Paul Thomas Anderson for "Phantom Thread."
Another category to pay attention to during your watch party is Best Song. Nominees include Mary J. Blige's "Mighty River" from "Mudbound;" Sufjan Stevens' "Mystery of Love," from "Call Me By Your Name;" Gael García Bernal, Libertad García Fonzi and Gabriella Flores' "Remember Me," from "Coco;" Andra Day's "Stand Up for Something," from "Marshall;" and Kaela Settle, Benj Pasek, and Justin Paul's "This is Me," from "The Greatest Showman."